Wolves vo­cal­ize in a vari­ety of ways in­clud­ing snarls, growls, whim­pers, whines and oc­ca­sion­ally barks. But it's the howl that fas­cin­ates hu­mans the most. To us it of­ten sounds sad and lonely but, to a wolf, a howl can mean any­thing from "Where are you?" to "Keep out of my territory!"
When I vis­ited Wolf Haven International, about an hour's drive south of Seattle, I was treated to a 55-can­id howl fest that I'll nev­er for­get. At the time I didn't know that each wolf has a howl as dis­tinct as a hu­man fin­ger­print or that wolves in dif­fer­ent re­gions howl in their own dialects.
Wolf Haven is a glob­ally ac­cred­ited sanc­tu­ary that provides a forever home for cap­tive-born and dis­placed wolves. The fa­cil­ity also par­ti­cip­ates in cap­tive breed­ing pro­grams for en­dangered Mexican grey wolves and red wolves, as well as caring for some high-con­tent wolf-dogs and coyotes.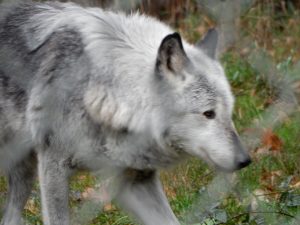 The re­ser­va­tion-only tour fea­tured eight an­im­als, a mix of grey and Mexican grey wolves, wolf-dogs and coyotes that were more at ease with lim­ited hu­man con­tact. The rest of the an­im­als are se­cluded for their own comfort.
But Wolf Haven videos provide be­hind-the-scenes glimpses of wolf life most people will nev­er see. This clip shows four Mexican grey wolf pups be­ing startled by a group howl sim­il­ar to what I heard. They weren't sure what to think, even when their dad showed them how it's done.
Wolf pups have an in­nate urge to howl but, just like hu­man ba­bies learn­ing to speak, it takes a while to get it right. In this clip, a lit­ter of red wolves listen to a Wolf Haven howl ses­sion then de­cide to give it a try.
But, in ad­di­tion to wolf-to-wolf com­mu­nic­a­tion, howls have the po­ten­tial to be so much more. A study in Yellowstone National Park is in­vest­ig­at­ing if re­cord­ings of ter­rit­ori­al howls can keep wolves away from live­stock, while an­oth­er study in north­ern India is at­tempt­ing to es­tim­ate the pop­u­la­tion of the re­gion's elu­sive, en­dangered wolves by count­ing in­di­vidu­al howls.