This week I will be­gin a new book. But, be­fore I write the first sen­tence, I em­bark on a ritu­al that read­ies me for the jour­ney ahead. I need to get my web­site up-to-date, a task that seems to stall when a book is in pro­gress. Then, with my cy­ber-world in or­der, I will tackle my writ­ing room with an aim to trans­form the jumble of notes, books, and files on my desk and around the room into clear, un­cluttered space.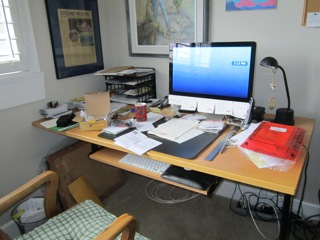 The visu­al ap­pear­ance of where I write af­fects my clar­ity and pro­ductiv­ity as much as the state of my in­teri­or land­scape. To be present and fo­cused, dis­trac­tions must go. That in­cludes the ma­ter­i­als and re­mind­ers of my last book, an il­lus­trated bio­graphy of the great Canadian writer and artist Ted Harrison.
The residue from that four-year pro­ject still fills nooks and cran­nies of my study. It is time to sift and sort. I will archive some ma­ter­i­als and store them un­der the stairs. But most of what was once es­sen­tial is not longer im­port­ant and can go. Now I have space on book­shelves, a clear bul­let­in board and empty file draw­ers for my cur­rent pro­ject. Later, I'll sweep from my desk the minu­ti­ae of every­day life that rep­res­en­ted in bank state­ments to be filed, magazines to re­cycle and orphaned bits of this and that.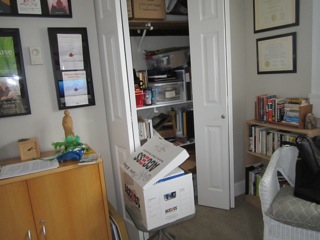 But I know this newly cleared space will be tem­por­ary. As I build the next book, my study will trans­form into a visu­al re­cord of that writ­ing pro­cess. Reference books, pho­tos, notes, tapes, let­ters and ran­dom thoughts scribbled on scraps of pa­per will find homes in the space around me.
The per­son­al­it­ies of my char­ac­ters will speak to me through these stat­ic fac­sim­iles. Together we will in­hab­it an en­vir­on­ment that will be ut­terly our own. It will change as we go deep­er into know­ing each oth­er. And so it will be un­til we reach THE END, when they too, will be sor­ted and either dis­carded or packed into stor­age boxes.
When I re­flect upon my stu­dent days, I see that even then, I needed a com­posed ex­tern­al space to put my in­tern­al world at ease. Because I am a visu­al per­son — someone who in­stinct­ively piles rather than files — this is a con­stant challenge.
In the past, I'd con­vinced my­self I knew where things were, even if my work­ing space was a con­fu­sion of chaos. I've since learned that I am more pro­duct­ive, clear and fo­cused when it is calm and orderly.
With space for my new book to grow, and with plant or two, a few pretty pic­tures and a little light jazz to keep my com­pany, the scene is set for my next writerly adventure.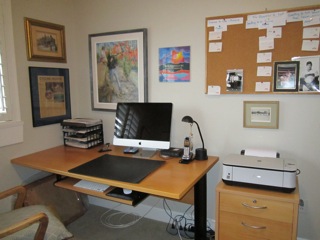 Katherine Gibson is the au­thor of Unclutter Your Life: Transforming Your Physcial, Mental and Emotional Space; Pause: Putting the Brakes on a Runaway Life and Ted Harrison Painting Paradise.