If a picture's worth a thou­sand words, 111 West Coast Literary Portraits is in­valu­able. Fifteen years in the mak­ing, it con­tains more than 100 pho­to­graphs of B.C. au­thors, as well as ex­tracts from their work or per­son­al notes writ­ten spe­cific­ally for the book.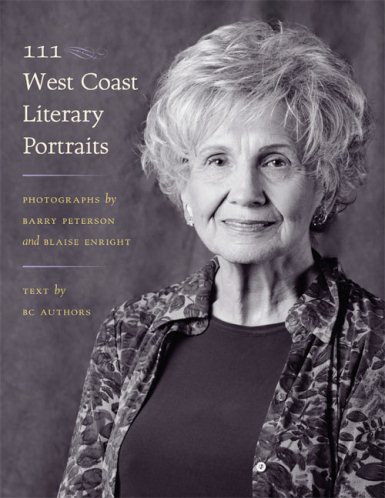 The book is an im­port­ant doc­u­ment­ary of B.C. lit­er­at­ure. It in­cludes emer­ging, fam­ous, as well as in­fam­ous au­thors and speaks to the di­versity of lit­er­at­ure, cul­ture and the unique voice of Canada's most west­ern province. A work of art in its own right, the 8 x 10 heavy stock, glossy pa­per gives a depth and lu­min­os­ity to each por­trait. And the use of black and white film provides a clas­sic, time­less qual­ity to the images.
When Barry began pho­to­graph­ing writers he didn't real­ize he was start­ing a book pro­ject. He and his wife at the time, Blaise Enright, were new to the West Coast and wanted a pro­ject they could work on to­geth­er while ex­plor­ing their new en­vir­on­ment. By a quirk of fate, au­thors be­came the fo­cal point. But it wasn't al­ways easy.
R.W. Gray wanted to be pho­to­graphed par­tially sub­merged in wa­ter. Rick and I wanted to in­clude our dog but Bailey thought pos­ing meant run­ning around in circles. Stephen Reid wanted to wear a cop cos­tume and have a gun and some money on the table in front of him. Little did Barry and Blaise know that Reid's props would later be used in a real life drama.
But per­haps the most dif­fi­cult photo shoot was of poet Al Purdy. The ini­tial im­ages didn't turn out well. Soon after Purdy re­ceived the proofs Barry answered the phone to find someone scream­ing at him. Purdy, a char­ac­ter with an oc­ca­sion­al crusty edge, de­man­ded the pho­tos be re­taken the next day or he'd black list the pho­to­graph­ers with every writer in B.C.
It was a scramble for Barry and Blaise to get to Victoria from Vancouver on time but they made it. Along the way, Blaise bought an as­sort­ment of squeaky toys hop­ing to light­en up the situ­ation. After the shoot, Purdy said he hadn't known wheth­er to smile or be of­fen­ded. The photo on page 158 tells it all.
As the col­lec­tion of pho­to­graphs grew, it was titled Lit Happens and ex­hib­ited in a vari­ety of ven­ues to pro­mote lit­er­acy in B.C. A couple of years ago, Mona Fertig of Mother Tongue Publishing ap­proached Barry about turn­ing the pho­to­graphs and ac­com­pa­ny­ing text by au­thors into a book.
This fall, Barry has ex­hib­ited prints from the book, at­ten­ded sign­ings and par­ti­cip­ated on pan­els of pho­to­graph­ers through­out the Lower Mainland, Vancouver Island and Gulf Islands.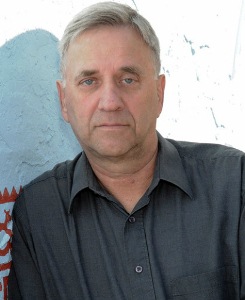 Barry's al­ways been pas­sion­ate about black and white film. "It helps the view­er fo­cus on the sub­ject," he ex­plains. "There's no con­fus­ing palette of col­ours and it seems to really high­light the sub­ject. Also, film pho­to­graphs have a depth to them that di­git­al can't du­plic­ate." As well as tak­ing the pho­to­graphs, Barry de­veloped all the film, mat­ted and framed the prints and even made the card­board boxes to trans­port them in.
Through 2009 and 2010, Barry and I col­lab­or­ated on a photo-journ­al­ism pro­ject called On the Edge, Putting a Face on Homelessness. Time and time again, I wit­nessed Barry's easy-go­ing man­ner help nervous folks re­lax, watched him guide people into nat­ur­al-look­ing poses and ad­mired the me­tic­u­lous de­tail that went into the print­ing of film and fram­ing of photo and text.
He's brought the same at­ten­tion to de­tail to 111 West Coast Literary Portraits. For more in­form­a­tion vis­it www​.barry​peterson​pho​to​graphy​.com or www​.mother​tongue​pub​lish​ing​.com.