Wolf Reviews and Media
To jump to Cougar reviews click here.
Reviews
"Following her award-win­ning 2013 book about cou­gars, Paula Wild re­turns with an ex­traordin­ary look at an­oth­er badly mis­un­der­stood an­im­al. In Return of the Wolf: Conflict & Coexistence, the au­thor de­liv­ers a riv­et­ing ex­plor­a­tion of the com­plic­ated re­la­tion­ship between hu­mans and wolves. Replete with un­for­get­table im­agery and bril­liantly rendered from be­gin­ning to end, this as­ton­ish­ing book goes a long way to in­form, up­date, and re­shape our per­cep­tions of wolves and awaken us to our role in de­term­in­ing their fate."
~ Brenda Schmidt, Quill & Quire
"A book like this, that provides real, well-re­searched, care­fully com­piled in­form­a­tion with a great list of oth­er re­sources is a tool with which to en­counter the mist of emo­tion­al­ism, hate, fear, love and mys­ti­cism that clings to the sub­ject of wolves. For those who are curi­ous, or con­fused, or wor­ried, or angry, this book is a great start­ing point, an­oth­er step on the long and dif­fi­cult road to hu­mans and non-hu­man one day be­ing able to share the planet."
~ Luanne Armstrong, The Tyee
"A story of wolves and hu­mans, Return of the Wolf tells a tale that will shock, in­form and con­sole. The author's sources have con­trib­uted a wealth of in­form­a­tion and stun­ning pho­to­graphs. This book is for those who wish to un­der­stand the wolf-hu­man con­flict while hop­ing that the fu­ture will in­clude large car­ni­vores in the world."
~ Jenny Balke, The Flagstone and Denman Island Readers and Writers Festival 2019
"In this thought­ful study, nature writer Wild (The Cougar) ex­am­ines the un­easy re­la­tion­ship between hu­mans and wolves and the pro­spects for peace­ful co­ex­ist­ence. To counter myths and mis­con­cep­tions, she provides ar­rest­ing real-life de­tails. With stun­ning col­or pho­to­graphy to ac­com­pany vivid prose de­scrip­tions, Wild ably de­liv­ers her message."
~ Publishers Weekly
"Paula Wild's book is a very timely guide to un­der­stand­ing wolves, and how we might ad­apt our hu­man be­ha­viour to co-ex­ist with them. It is a use­ful journ­al­ist­ic in­tro­duc­tion to a com­plex prob­lem and should be wel­comed as an in­vit­a­tion to re­dis­cov­er the wolf."
~Loys Maingon, BC Bookworld, Ormsby Review
"Impressively in­form­at­ive, ex­cep­tion­ally well writ­ten, or­gan­ized and presen­ted, Return of the Wolf: Conflict and Coexistence is en­hanced for aca­demia with the in­clu­sion of a four page Appendix (Wolf Safety Checklist), a six page list­ing of Selected Sources, and a sev­en page Index, mak­ing it an ideal and un­re­servedly re­com­men­ded ad­di­tion to per­son­al, pro­fes­sion­al, com­munity, col­lege, and uni­ver­sity lib­rary Contemporary Wildlife col­lec­tions in gen­er­al, and Wolf Ecology sup­ple­ment­al stud­ies read­ing lists in particular."
~ Midwest Book Review
"I just read Return of the Wolf. What thought­ful, in­sight­ful writ­ing. As a re­tired wild­life and zoo veter­in­ari­an, I really ap­pre­ci­ated it. And, as a ranch­er, I have suc­cess­fully used LGD to pro­tect my live­stock. Keep up the good work." ~Darrel Florence
"Paula Wild lays out the cur­rent real­ity (of wolves) in her ex­cel­lent book (which) has a lot of im­port­ant and in­ter­est­ing in­form­a­tion. It really is a must-read for any­one spend­ing a lot of time in the forest where wolves are present.
~ B. Staffan Lindgren, Professor Emeritus at UNBC.
Best Books of 2018
~ John Goodman, North Shore News
"Not just a nature book, Return of the Wolf is a call to ac­tion. … As much as wolves have af­fected hu­mans' ac­tions, at­ti­tudes and cul­tures, the fate of wolves de­pends on us. Return of the Wolf is a ne­ces­sary book for every hiker, kayaker, cot­tage-own­er, ranch­er and park ranger, and a clear and in­form­at­ive text for the gen­er­al reader."
~ Gene Walz, Winnipeg Free Press
"Neither dev­ils nor an­gel­ic mes­sen­gers, the wolves that ap­pear in Wild's im­press­ive new book are com­plex, in­tel­li­gent and fas­cin­at­ing an­im­als with elab­or­ate pack struc­tures and com­mu­nic­a­tion pat­terns. They are also top pred­at­ors and, very oc­ca­sion­ally, we are their prey…. The stor­ies are fas­cin­at­ing. This book will be a pleas­ure for any­one who loves the out­doors or wild­life, and a use­ful cor­rect­ive to the myths that sur­round the wolf."
~Tom Sandborn, Vancouver Sun
"All about wolves: Wildlife au­thor Paula Wild's new book shat­ters myths around the carnivore….Her latest book, Return of the Wolf: Conflict & Coexistence, con­tin­ues her leg­acy of dig­ging deep­er into what makes wild­life tick.
~ Jennifer Thuncher, Squamish Chief
"This is an easy-to-read, well re­searched, timely book…I re­com­mend adding (it) to your lib­rary. The 16-page col­our plate sec­tion, as well as many black and white pho­tos adds greatly to the read."
~Jonathan Way The Canadian Field Naturalist.
"I've nev­er been for­tu­nate enough to see a wolf and I'm not sure how I would act if I did so I picked up Wild's book hop­ing for an­swers and clues. I wasn't dis­ap­poin­ted. All ques­tions were answered and then some. Wild's re­search has ob­vi­ously been con­sid­er­able. As good as the author's writ­ing and re­search are, the care­fully chosen pho­to­graphs, both in col­our and black-and-white might even trump them."
~ Cherie Thiessen, Pacific Yachting
TV

Interviews
Shaw TV Coast Connections with Elizabeth Heinz
Radio Interviews
North by Northwest with Sheryl MacKay (in­ter­view starts at 55:11)
CBC's Daybreak North (in­ter­view starts 35 minutes in)
CBC's On the Coast (in­ter­view starts at 2 hours, 23 minutes in)
Articles
CBC News: Wolves on the re­bound across B.C. – here's how to live with them
Readers' comments
"I en­joyed and learned quite a lot from the great rich read of Return of the Wolf. The book was just what I needed as I wrestled with my own ideal­ism about co-ex­ist­ence with oth­er creatures /​/​ love of howls /​/​ de­sire to camp and bi­cycle and walk alone out­side un­afraid." 'Peter Bradley
"I just fin­ished read­ing your wolf book and thor­oughly en­joyed it. I found it both in­form­at­ive and en­ter­tain­ing. I love your bal­anced ap­proach when writ­ing about these an­im­als as op­posed to the "Disney" ver­sion of their lives."
~ Spencer Ward
"What a fan­ata­st­ic book; I learned so much by read­ing it!"
~ Nell Hamm
"My 9 year old daugh­ter is cur­rently de­vour­ing the book and lov­ing every page. Talk about in­spir­ing the next gen­er­a­tion! My daugh­ter men­tioned that her teach­er would like to read it also and share some in­sights for their sci­ence class."
~ Liesl Lockhart
"What a great les­son in wolves this book is. Thought-pro­vok­ing in gen­er­al re­gard­ing wildlife."
~ Cheryl Cohen, Return of the Wolf proofread­er.
Audience com­ments after Paula's present­a­tion at the Kingston Writers Festival:
"Educational & riv­et­ing, know­ledge­able presenter, beau­ti­ful im­ages and loved every minute!"
Not only was your PowerPoint present­a­tion very good but the depth of know­ledge that you dis­played while field­ing ques­tions was ex­tremely im­press­ive. It was all very in­ter­est­ing and informative.
~ Mick Zeznik
Your present­a­tion was smooth and in­form­at­ive. It was ob­vi­ous you have done a ton of re­search and have a great depth of knowledge.
~ Susan Ketchen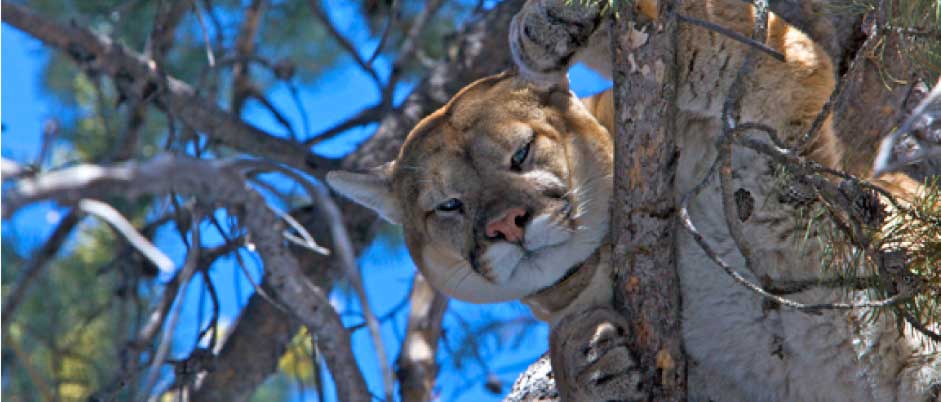 Cougar Reviews

&

Media
Reviews
"Written in clear, straight­for­ward prose aimed at the gen­er­al read­er, this book has the po­ten­tial to raise pub­lic con­scious­ness of these beau­ti­ful, in­triguing and power­ful an­im­als. It is an ex­tremely com­pel­ling, at times heart-pound­ing read.…a very valu­able ad­di­tion to our know­ledge about this in­cred­ible spe­cies and about what 'wild' truly means."
~ Pacific Northwest Quarterly
"British Columbia sav­ant Paula Wild has writ­ten an in­stant clas­sic in her 2013 work The Cougar: Beautiful, Wild and Dangerous. Wild's gen­i­al nar­ra­tion cre­ates as fine a work of pop­u­lar nat­ur­al his­tory as the American moun­tain lion has ever re­ceived. Here in one book is everything a curi­ous read­er might want to know about this re­mark­able an­im­al. It should be re­quired read­ing for every hiker, ranch­er, and sub­urb-dwell­er, es­pe­cially the ones who don't ima­gine they could meet a lion just after lunch on Trailhead 2."
~ Open Letters Monthly, an Arts and Literature Review
"In this en­ga­ging study, B.C.-based au­thor Wild (One River, Two Cultures) de­tails the com­plex re­la­tion­ship between hu­mans and the big cats that serve as 'com­pel­ling icons of everything hu­mans fear and ad­mire.' Wild provides help­ful tips on liv­ing safely in cou­gar coun­try and urges a great­er un­der­stand­ing of these pred­at­ors in or­der to cre­ate a more har­mo­ni­ous hu­man-fe­line co­ex­ist­ence. With rich pho­tos and lively prose, Wild's in­form­at­ive book should be of in­terest to wild­life spe­cial­ists and gen­er­al read­ers alike."
~ Publishers Weekly
"Paula Wild has bril­liantly dis­tilled everything you may or may not have wanted to know about moun­tain lions plus things you may nev­er have thought to ques­tion about the big cats into a page-turn­ing jour­ney of dis­cov­ery. The book cov­ers cou­gar bio­logy, nature, his­tory and be­ha­vi­or, as well as en­coun­ters and at­tacks. Wild has crys­tal­ized her ob­ser­va­tions and re­search into use­ful, yes, es­sen­tial in­form­a­tion for any­one who may en­counter a cou­gar. Her goal of in­form­ing people for their safety as well as for the well-be­ing of this in­fam­ous pred­at­or, has been my primary goal as well. But her ana­lys­is provides the read­er a great short­cut to what is most mean­ing­ful and important."
~ www​.cou​gar​info​.org
"An es­sen­tial read for any­one liv­ing in cou­gar country."
~ The Log: Friends of Ecological Reserves
"Paula Wild is an amaz­ing wo­man and writer…very charm­ing, in­spir­a­tion­al too."
~ Jo-Ann Roberts, CBC Radio All Points West.
"The Cougar is a fas­cin­at­ing read and will grace book shelves for many years of­fer­ing in­sights into the secret life of cougars."
~ Sooke News Mirror
"The Cougar is a "must-read" for any­one who wants to know about this cap­tiv­at­ing yet po­ten­tially deadly beast — or for any­one who plans to vis­it, work, or live in cou­gar country!"
~ The Midwest Book Review
"If sen­sa­tion­al cou­gar at­tacks on people and their pets make you hungry to know more about these elu­sive fe­lines, then Paula Wild's The Cougar: Beautiful, Wild and Dangerous is for you."
~ Vancouver Sun
"An ex­cel­lent read."
~ Campbell River Courier Islander
"A fas­cin­at­ing book."
~ Coast Reporter Sunshine Coast
TV

interviews
Global TV's BC The Weekday Morning News with Steve Darling and Sophie Lui.
Shaw TV's The Rush with Fiona Forbes.
Radio interviews
CBC Radio One's The Early Edition with Rick Cluff.
Mountain FM Radio with Kirstin Ridout.
CBC's All Points West with Jo-Ann Roberts.
Readers' comments
"I've very much en­joyed your wolf and cou­gar books. This past sum­mer, near my cab­in at Gun Lake in the Bridge River Valley, I roun­ded a sharp turn on a log­ging road and stand­ing broad­side in the middle of the road, was a large cou­gar. I'm 81 years old and have spent a lot of time in the back coun­try, but this was my first cou­gar. I ap­pre­ci­ated the sight­ing all the more be­cause of your book. Thank You."
~Paul Tennant
"I really en­joyed read­ing The Cougar! It was cap­tiv­at­ing and dif­fi­cult to put down. I have yet to see a cou­gar in the wild, but if that ever hap­pens I have a much bet­ter un­der­stand­ing of how to respond!"
~ Andrew Bennett
"Just fin­ished your book and wanted to thank you for writ­ing it! Engaging, in­form­at­ive, de­mys­ti­fy­ing. I don't live in cou­gar coun­try, but I travel and hike there of­ten, and I feel bet­ter equipped to handle an (ex­tremely un­likely) en­counter now."
~ Noah Comet, pro­fess­or of Literature and wild­life ad­voc­ate, US Naval Academy.
"I just fin­ished read­ing your new book The Cougar and it was one of the best and most in­form­at­ive I've ever read on the sub­ject and I've read all of them."
~ Spencer Ward
"Your book taught me so much about cou­gars and what to do if I ever en­counter one. I am an avid hiker, of­ten alone, and I now feel more con­fid­ent and will bring the ne­ces­sary weapons just in case the worst were to hap­pen, not to men­tion think twice about hik­ing at dusk. I am a be­liev­er in co-ex­ist­ence with cou­gars and oth­er large pred­at­ors but its bed­rock is know­ledge, like you write in your book. "
~ Coral Nast
"My book just ar­rived today, and OH MY! I've been look­ing for a book like this all my life. It is just won­der­ful. I live in Cougar coun­try, and this will be very help­ful in learn­ing more about them."
~ Margaret Gahner
"The best non-fic­tion I've ever read."
~ Sherry Abramson
"Great work…it will be as im­port­ant as Stephen Herrero's Bear Attacks Their Causes and Avoidance."
~ Gottfried Esch Photography
"The best cou­gar pub­lic­a­tion ever."
~ Dave Eyer
"A beau­ti­ful book and very engaging."
~ Darrel Joan Tomkins
"It's so nice to see cou­gars be­ing rep­res­en­ted as majest­ic and not demonized."
~ Danielle Thompson, Wildlife Biologist, Parks Canada.
"I read the first chapter last night and was totally en­grossed. I'm buy­ing two more cop­ies for Christmas presents."
~ Woman in a Port McNeill park­ing lot.
"Loved the book!"
~ Carole Baskin, CEO Big Cat Rescue
"Thanks for such an in­ter­est­ing read! I was able to pull a lot of valu­able in­form­a­tion from the book."
~ Meg Toom, coördin­at­or WildSafeBC Program for the District of Squamish.
Read more cou­gar testi­mo­ni­als here.

Top ban­ner photo: Four month old Arctic pups at the en­trance to their den on Ellesmere Island on Nunavut. Photo by Dave Mech.
Second ban­ner photo by Steve Winter, Panthera
Click on the nav­ig­a­tion links be­low to read about the oth­er books Paula has written.