Wolf Reviews and Media
To jump to Cougar reviews click here.
Reviews
"Following her award-winning 2013 book about cougars, Paula Wild returns with an extraordinary look at another badly misunderstood animal. In Return of the Wolf: Conflict & Coexistence, the author delivers a riveting exploration of the complicated relationship between humans and wolves. Replete with unforgettable imagery and brilliantly rendered from beginning to end, this astonishing book goes a long way to inform, update, and reshape our perceptions of wolves and awaken us to our role in determining their fate."
~ Brenda Schmidt, Quill & Quire
"A book like this, that provides real, well-researched, carefully compiled information with a great list of other resources is a tool with which to encounter the mist of emotionalism, hate, fear, love and mysticism that clings to the subject of wolves. For those who are curious, or confused, or worried, or angry, this book is a great starting point, another step on the long and difficult road to humans and non-human one day being able to share the planet."
~ Luanne Armstrong, The Tyee
"A story of wolves and humans, Return of the Wolf tells a tale that will shock, inform and console.  The author's sources have contributed a wealth of information and stunning photographs. This book is for those who wish to understand the wolf-human conflict while hoping that the future will include large carnivores in the world."
~ Jenny Balke, The Flagstone and Denman Island Readers and Writers Festival 2019
"In this thoughtful study, nature writer Wild (The Cougar) examines the uneasy relationship between humans and wolves and the prospects for peaceful coexistence. To counter myths and misconceptions, she provides arresting real-life details. With stunning color photography to accompany vivid prose descriptions, Wild ably delivers her message."
~ Publishers Weekly
"Paula Wild's book is a very timely guide to understanding wolves, and how we might adapt our human behaviour to co-exist with them. It is a useful journalistic introduction to a complex problem and should be welcomed as an invitation to rediscover the wolf."
~Loys Maingon, BC Bookworld, Ormsby Review
"Impressively informative, exceptionally well written, organized and presented, Return of the Wolf: Conflict and Coexistence is enhanced for academia with the inclusion of a four page Appendix (Wolf Safety Checklist), a six page listing of Selected Sources, and a seven page Index, making it an ideal and unreservedly recommended addition to personal, professional, community, college, and university library Contemporary Wildlife collections in general, and Wolf Ecology supplemental studies reading lists in particular."
~ Midwest Book Review
"I just read Return of the Wolf. What thoughtful, insightful writing. As a retired wildlife and zoo veterinarian, I really appreciated it. And, as a rancher, I have successfully used LGD to protect my livestock. Keep up the good work." ~Darrel Florence
"Paula Wild lays out the current reality (of wolves) in her excellent book (which) has a lot of important and interesting information. It really is a must-read for anyone spending a lot of time in the forest where wolves are present.
~ B. Staffan Lindgren, Professor Emeritus at UNBC.
Best Books of 2018
~ John Goodman, North Shore News
"Not just a nature book, Return of the Wolf is a call to action. … As much as wolves have affected humans' actions, attitudes and cultures, the fate of wolves depends on us. Return of the Wolf is a necessary book for every hiker, kayaker, cottage-owner, rancher and park ranger, and a clear and informative text for the general reader."
~ Gene Walz, Winnipeg Free Press  
"Neither devils nor angelic messengers, the wolves that appear in Wild's impressive new book are complex, intelligent and fascinating animals with elaborate pack structures and communication patterns. They are also top predators and, very occasionally, we are their prey…. The stories are fascinating. This book will be a pleasure for anyone who loves the outdoors or wildlife, and a useful corrective to the myths that surround the wolf."
~Tom Sandborn, Vancouver Sun
"All about wolves: Wildlife author Paula Wild's new book shatters myths around the carnivore….Her latest book, Return of the Wolf: Conflict & Coexistence, continues her legacy of digging deeper into what makes wildlife tick.
~ Jennifer Thuncher, Squamish Chief
"This is an easy-to-read, well researched, timely book…I recommend adding (it) to your library. The 16-page colour plate section, as well as many black and white photos adds greatly to the read."
~Jonathan Way The Canadian Field Naturalist.
"I've never been fortunate enough to see a wolf and I'm not sure how I would act if I did so I picked up Wild's book hoping for answers and clues. I wasn't disappointed. All questions were answered and then some. Wild's research has obviously been considerable. As good as the author's writing and research are, the carefully chosen photographs, both in colour and black-and-white might even trump them."
~ Cherie Thiessen, Pacific Yachting
TV Interviews
Shaw TV Coast Connections with Elizabeth Heinz
Radio Interviews
North by Northwest with Sheryl MacKay (interview starts at 55:11)
CBC's Daybreak North (interview starts 35 minutes in)
CBC's On the Coast (interview starts at 2 hours, 23 minutes in)
Articles
CBC News: Wolves on the rebound across B.C. – here's how to live with them
Readers' comments
"I enjoyed and learned quite a lot from the great rich read of Return of the Wolf. The book was just what I needed as I wrestled with my own idealism about co-existence with other creatures // love of howls // desire to camp and bicycle and walk alone outside unafraid." `Peter Bradley
"I just finished reading your wolf book and thoroughly enjoyed it. I found it both informative and entertaining.  I love your balanced approach when writing about these animals as opposed to the "Disney" version of their lives."
~ Spencer Ward
"What a fanatastic book; I learned so much by reading it!"
~ Nell Hamm
"My 9 year old daughter is currently devouring the book and loving every page. Talk about inspiring the next generation! My daughter mentioned that her teacher would like to read it also and share some insights for their science class."
~ Liesl Lockhart
"What a great lesson in wolves this book is. Thought-provoking in general regarding wildlife."
~ Cheryl Cohen, Return of the Wolf proofreader.
Audience comments after Paula's presentation at the Kingston Writers Festival:
"Educational & riveting, knowledgeable presenter, beautiful images and loved every minute!"
Not only was your PowerPoint presentation very good but the depth of knowledge that you displayed while fielding questions was extremely impressive. It was all very interesting and informative.
~ Mick Zeznik
Your presentation was smooth and informative. It was obvious you have done a ton of research and have a great depth of knowledge.
~ Susan Ketchen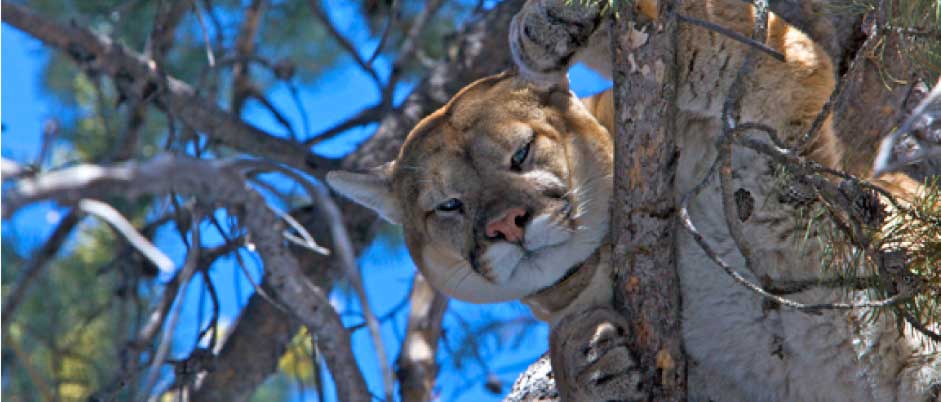 Cougar Reviews & Media
Reviews
"Written in clear, straightforward prose aimed at the general reader, this book has the potential to raise public consciousness of these beautiful, intriguing and powerful animals. It is an extremely compelling, at times heart-pounding read….a very valuable addition to our knowledge about this incredible species and about what 'wild' truly means."
~ Pacific Northwest Quarterly
"British Columbia savant Paula Wild has written an instant classic in her 2013 work The Cougar: Beautiful, Wild and Dangerous. Wild's genial narration creates as fine a work of popular natural history as the American mountain lion has ever received. Here in one book is everything a curious reader might want to know about this remarkable animal. It should be required reading for every hiker, rancher, and suburb-dweller, especially the ones who don't imagine they could meet a lion just after lunch on Trailhead 2."
~ Open Letters Monthly, an Arts and Literature Review
"In this engaging study, B.C.-based author Wild (One River, Two Cultures) details the complex relationship between humans and the big cats that serve as 'compelling icons of everything humans fear and admire.' Wild provides helpful tips on living safely in cougar country and urges a greater understanding of these predators in order to create a more harmonious human-feline coexistence. With rich photos and lively prose, Wild's informative book should be of interest to wildlife specialists and general readers alike."
~ Publishers Weekly
"Paula Wild has brilliantly distilled everything you may or may not have wanted to know about mountain lions plus things you may never have thought to question about the big cats into a page-turning journey of discovery. The book covers cougar biology, nature, history and behavior, as well as encounters and attacks. Wild has crystalized her observations and research into useful, yes, essential information for anyone who may encounter a cougar. Her goal of informing people for their safety as well as for the well-being of this infamous predator, has been my primary goal as well. But her analysis provides the reader a great shortcut to what is most meaningful and important."
~ www.cougarinfo.org
"An essential read for anyone living in cougar country."
~ The Log: Friends of Ecological Reserves
"Paula Wild is an amazing woman and writer…very charming, inspirational too."
~ Jo-Ann Roberts, CBC Radio All Points West.
"The Cougar is a fascinating read and will grace book shelves for many years offering insights into the secret life of cougars."
~ Sooke News Mirror
"The Cougar is a "must-read" for anyone who wants to know about this captivating yet potentially deadly beast – or for anyone who plans to visit, work, or live in cougar country!"
~ The Midwest Book Review
"If sensational cougar attacks on people and their pets make you hungry to know more about these elusive felines, then Paula Wild's The Cougar: Beautiful, Wild and Dangerous is for you."
~ Vancouver Sun
"An excellent read."
~ Campbell River Courier Islander
"A fascinating book."
~ Coast Reporter Sunshine Coast
TV interviews
Global TV's BC The Weekday Morning News with Steve Darling and Sophie Lui.
Shaw TV's The Rush with Fiona Forbes.
Radio interviews
CBC Radio One's The Early Edition with Rick Cluff.
Mountain FM Radio with Kirstin Ridout.
CBC's All Points West with Jo-Ann Roberts.
Readers' comments
"I've very much enjoyed your wolf and cougar books. This past summer, near my cabin at Gun Lake in the Bridge River Valley, I rounded a sharp turn on a logging road and standing broadside in the middle of the road, was a large cougar. I'm 81 years old and have spent a lot of time in the back country, but this was my first cougar. I appreciated the sighting all the more because of your book. Thank You."
~Paul Tennant
"I really enjoyed reading The Cougar! It was captivating and difficult to put down. I have yet to see a cougar in the wild, but if that ever happens I have a much better understanding of how to respond!"
~ Andrew Bennett
"Just finished your book and wanted to thank you for writing it! Engaging, informative, demystifying. I don't live in cougar country, but I travel and hike there often, and I feel better equipped to handle an (extremely unlikely) encounter now."
~ Noah Comet, professor of Literature and wildlife advocate, US Naval Academy.
"I just finished reading your new book The Cougar and it was one of the best and most informative I've ever read on the subject and I've read all of them."
~ Spencer Ward
"Your book taught me so much about cougars and what to do if I ever encounter one. I am an avid hiker, often alone, and I now feel more confident and will bring the necessary weapons just in case the worst were to happen, not to mention think twice about hiking at dusk. I am a believer in co-existence with cougars and other large predators but its bedrock is knowledge, like you write in your book. "
~ Coral Nast
"My book just arrived today, and OH MY! I've been looking for a book like this all my life. It is just wonderful. I live in Cougar country, and this will be very helpful in learning more about them."
~ Margaret Gahner
"The best non-fiction I've ever read."
~ Sherry Abramson
"Great work…it will be as important as Stephen Herrero's Bear Attacks Their Causes and Avoidance."
~ Gottfried Esch Photography
"The best cougar publication ever."
~ Dave Eyer
"A beautiful book and very engaging."
~ Darrel Joan Tomkins
"It's so nice to see cougars being represented as majestic and not demonized."
~ Danielle Thompson, Wildlife Biologist, Parks Canada.
"I read the first chapter last night and was totally engrossed. I'm buying two more copies for Christmas presents."
~ Woman in a Port McNeill parking lot.
"Loved the book!"
~ Carole Baskin, CEO Big Cat Rescue
"Thanks for such an interesting read! I was able to pull a lot of valuable information from the book."
~ Meg Toom, coordinator WildSafeBC Program for the District of Squamish.
Read more cougar testimonials here.

Top banner photo: Four month old Arctic pups at the entrance to their den on Ellesmere Island on Nunavut. Photo by Dave Mech.
Second banner photo by Steve Winter, Panthera
Click on the navigation links below to read about the other books Paula has written.