One River, Two Cultures
A History of the Bella Coola Valley
Archival photographs
Contemporary images by Rick James
Published by Harbour Publishing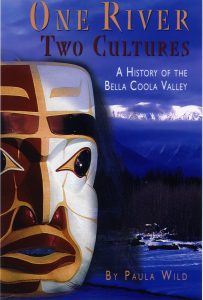 One River, Two Cultures is a remarkable story of human endurance and of a people's relationship with the raw, physical landscape around them.
Starting with the prehistory of the Nuxalk First Nation, Paula documents the arrival and impact of the valley's first white inhabitants, and the rough and ready mix of "outsiders" who embraced the challenge of living in a remote wilderness area on the Central Coast of British Columbia. This book will take you to a place that is both striking in beauty and rich in culture.
Paula spent eight years travelling between her home in the Comox Valley to the Bella Coola Valley to research this book. "I met some quirky characters and made some lasting friendships," she says. "That remote valley will always have a special place in my heart."
One River Two Cultures: A History of the Bella Coola Valley may be purchased at independent book stores and through Amazon and Chapters. Paula is also happy to autograph and mail books. Email Paula for details.
A Vancouver Sun BC Bestseller
Canada Council grant to research First Nations ooligan fishery
Reviews:
"One River, Two Cultures is a thoroughly researched, detail-rich and highly personable piece of B.C. history." Jennifer Van Evra, Vancouver Review.
"One River steps up to the plate in a big way. The author uses archival photographs and information gleaned from local residents and the community archives, and sets a new bench mark for the region's definitive history." Sage Birchwater, Coast Mountain News.
Banner photo: The Wild Pacific Trail, Ucluelet, BC. Photo by Paula Wild