Paula's Bio
Paula Wild is an award-winning author of seven books. Her most recent release, Return of the Wolf: Conflict & Coexistence (Douglas & McIntyre 2018) received a Silver Medal for Environment/Ecology from the Independent Publisher Book Awards. The Cougar: Beautiful, Wild and Dangerous (Douglas & McIntyre 2013) was the Gold winner for Foreword Review's Nature Book of the Year in the USA and Finalist for the BC Book Prizes' Bill Duthie Booksellers' Choice Award (Canada)
Wild is also the author of The Comox Valley (Harbour Publishing 2006); One River, Two Cultures: A History of the Bella Coola Valley  (Harbour Publishing 2004) and Sointula Island Utopia (Harbour Publishing 1995). Sointula received an award from the BC Historical Federation, citing the book as "a significant contribution to BC history." All Wild's books have been BC bestsellers.
Commissioned books include The Filberg Heritage Lodge & Park (Filberg Heritage Lodge and Park Association 2009) and Memories: One Hundred Years of Living (Don Plewes 2010).
 Known for her conversational and engaging style, Wild's work has appeared in British Columbia Magazine, Canada's History Magazine, the Vancouver Sun and numerous other periodicals and anthologies. She has written more than 1,000 articles on topics as diverse as lady bugs, health, teen suicide and con artists. Many articles have been cover stories, several have been nominated for the National Magazine Awards. "On a Mission for Life" received the John Alexander Award.
Wild began her writing career as a stringer for the North Island Gazette, covered arts for the Comox Valley Record for 25 years and was editor of the newspaper's About Town and Comox by the Sea supplements for several years.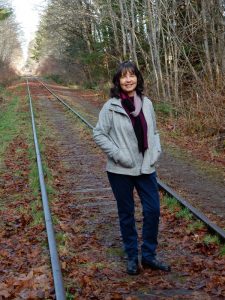 Wild has feasted on fresh ooligan grease in the Bella Coola Valley, paddled the piranha-infested waters of the Amazon River and lived off the grid in a squatter's cabin in the rainforest of northern Vancouver Island. She heard her first wolf howl while camping on Brooks Peninsula and, years later, was woken up in the middle of the night by a cougar screaming in the greenspace behind her home in Courtenay.
As an author, Wild is intrigued by the relationships between people, places and the natural world. Travel has taken her to 11 countries on four continents where she has experienced different landscapes and cultures in locations as diverse as Malta, Brazil, Romania and Tanzania. She's fascinated by the ways people adapt to or modify the land and how the roles of hunter and prey shift between humans and wildlife according to circumstance.

Banner photo: Serengeti National Park, Tanzania. Photo by Paula Wild
Click on the nav­ig­a­tion links below to read about the books Paula has writ­ten.