Freelance Projects
Paula has writ­ten more than 1,000 fea­ture stor­ies and invest­ig­at­ive reports cov­er­ing everything from teen depres­sion to lady bugs, get­ting fit and con artists.
She's also provided text for web­sites, news­let­ters, bro­chures and annu­al reports. One pro­ject involved pre­par­ing mul­ti­me­dia research pack­ages on Sointula and the BC Central Coast to be used to cre­ate dis­plays in the Canadian Museum of Civilization.
Some of her taped inter­views for Sointula Island Utopia are held in the BC Records and Archives Services in Victoria aur­al his­tory col­lec­tion. And, the sum­mer of 2010, Paula ghost-wrote the auto­bi­o­graphy of a woman who was turn­ing 100.
Editors' comments
"We love your con­ver­sa­tion­al style."
Kelly Vail, Alberta Lung Association.
"High qual­ity and so very read­able."
Karen Morrison, Editor Western People.
"An awe­some, well-researched, inform­at­ive read."
Alison Northy, Editor BC Woman Magazine.
"Always on-time, on budget, accur­ate, ima­gin­at­ive and an easy edit." Bruce Winfield, Editor Comox Valley Record.
Some sample projects:
On the Edge
A col­lab­or­a­tion between writer Paula Wild and pho­to­graph­er Barry Peterson, On the Edge is a pho­to­journ­al­ism pro­ject designed to put a per­son­al face on the home­less and those at risk of becom­ing so. Each framed and mat­ted piece includes a black and white por­trait and a one page syn­op­sis of the person's life.
Participants selec­ted the pho­tos, approved the text and were paid for their time with gro­cery gift cards. The exhib­it has been shown in a vari­ety of ven­ues includ­ing non-profit soci­et­ies and schools. Paula and Barry have also presen­ted On the Edge slide shows and talks to vari­ous organ­iz­a­tions.
Click here:Ruby's Story to read an excerpt.
The Grease Project
While research­ing One River, Two Cultures, A History of the Bella Coola Valley, Paula received a Canada Council grant to study the Nuxalk meth­od of mak­ing "grease."
This cen­tur­ies old First Nation's tra­di­tion involves let­ting small, smelt-like fish fer­ment for a week or longer, then gently sim­mer­ing them to release the vit­am­in-rich oil.
Click here: The Grease Project to read an excerpt.
Beautiful British Columbia
"Sointula's free-love utopia"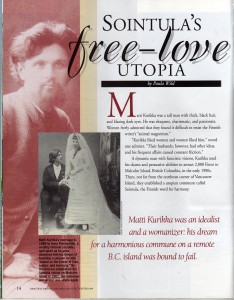 Formed by Finnish ideal­ists at the end of the 19th cen­tury, the uto­pi­an com­mune of Sointula was based on the prom­ise of equal­ity for all. But carving a com­munity out of the wil­der­ness was chal­len­ging and fin­an­cial resources were scarce. And when rumours that free love was being prac­ticed reached the out­side world, ten­sions with­in the com­mune escal­ated.
Click here: Sointula Free Love Utopia to read an excerpt.
BC

Woman Magazine "Smooth Operators"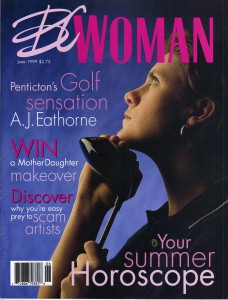 The best way to beat a scam is to recog­nize it before it hap­pens. If it sounds too good to be true, it likely is.
A con artists' favour­ite vic­tim? The eld­erly and women.
Click here: BC Woman Magazine to read an excerpt.
Western People
"Life Amid the Trees, The Life and Times of Bus Griffiths"
Although he's been called a "liv­ing nation­al treas­ure," Bus Griffiths was a mod­est man with a pen­chant for a good story.
The retired hand-log­ger lived in Fanny Bay on the east coast of Vancouver Island and also claimed the titles of artist, author, log­ging his­tor­i­an and com­ic-strip illus­trat­or. Apart from his fam­ily, log­ging was closest to his heart.
Click here: Western People to read an excerpt
The Beaver, Canada's History Magazine
"Weena: Thomas McIlwraith among the Bella Coola"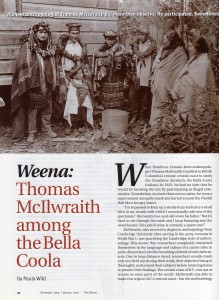 When pion­eer anthro­po­lo­gist Thomas McIlwraith went to the remote Bella Coola Valley in 1922, he did more than observe. He made friends with his sub­jects and par­ti­cip­ated in ancient dances and rituals…even when it meant break­ing the law.
Click here: Thomas McIlwraith to read an excerpt.