The Filberg Heritage Lodge & Park
Photographs by Carl Tessmann
Published by Filberg Heritage Lodge and Park Association
The Filberg Heritage Lodge & Park is a fascinating history and contemporary guide to the former home and property of logging magnate and millionaire Robert Filberg and his wife Florence.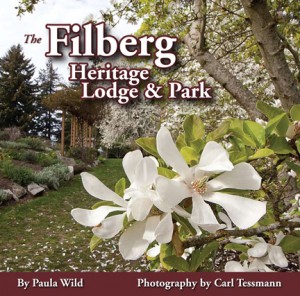 In a combination of stunning photographs and lively text, the book highlights the rustic elegance of the Filberg's handcrafted home, the distinctive features of the lush, nine-acre waterfront property and, of course, the lives of the Filbergs themselves.
The lodge and grounds, located in the Comox Valley just outside of Comox, B.C, were granted heritage status in 1979. In August, the central Vancouver Island property is the site of the Filberg Festival, one of the largest arts and crafts festivals in B.C.
Banner photo: Nuchatlitz Provincial Park. Photo by Paula Wild.