The Comox Valley
Courtenay, Comox, Cumberland & Area
Photographs by Boomer Jerritt and Rick James
Published by Harbour Publishing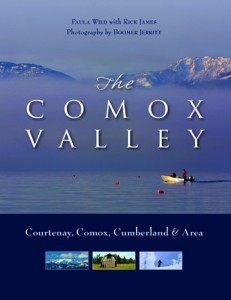 The Comox Valley is three books in one: a breathtaking photographic study, an entertaining history and a contemporary guide to central Vancouver Island, one of British Columbia's most captivating regions. This is an intimate portrait in words and photographs that could only be created by long-term valley residents.
The Comox Valley: Courtenay, Comox, Cumberland & Area may be purchased at independent book stores and through Amazon and Chapters. Paula is also happy to autograph and mail books. Email Paula for details.
A Harbour Publishing BC Bestseller
Comox Valley Tourism Ambassador of the Year Award
Review
"Part history, coffee table book and tourist guide, The Comox Valley is a joy to read." Jocie Ingram British Columbia History.
Banner photo: The Wild Pacific Trail, Ucluelet, BC. Photo by Paula Wild