Memories
One Hundred Years of Living
A Plewes Family History
Photos from Plewes family collection
Published by Don Plewes
The summer of 2010 Paula drove to Comox one day a week to interview Louise Plewes. Louise, 99 at the time, still lived on her own, drove a car and even had a computer and email account.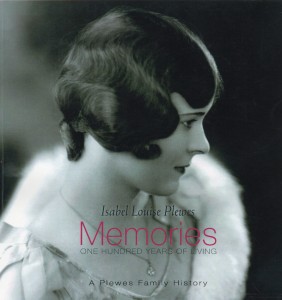 To commemorate her upcoming 100th birthday, Louise's son, Don, commissioned Paula to write the Plewes family history. The story traces the Pearce and Plewes families from their English roots to their new lives in Canada with a focus on Louise's life and accomplishments.
For Paula, meeting and getting to know Louise was more than a job, it was also an inspiration for how to age gracefully, have a meaningful existence and enjoy life at all stages.
According to Louise, "Age is just a number; it's how well you've lived your life that counts. Remaining physically active and mentally engaged is important. So is faith, as well as a positive attitude and contributing to the community."
For Louise, these are essential ingredients for 100 years of living.
Banner photo: Wild Pacific Trail, Ucluelet,

BC

. Photo by Paula Wild