Memories
One Hundred Years of Living
A Plewes Family History
Photos from Plewes family collection
Published by Don Plewes
The sum­mer of 2010 Paula drove to Comox one day a week to in­ter­view Louise Plewes. Louise, 99 at the time, still lived on her own, drove a car and even had a com­puter and email account.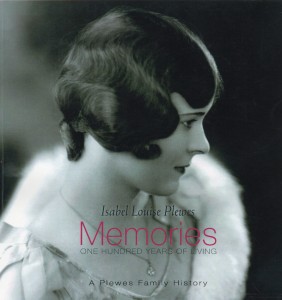 To com­mem­or­ate her up­com­ing 100th birth­day, Louise's son, Don, com­mis­sioned Paula to write the Plewes fam­ily his­tory. The story traces the Pearce and Plewes fam­il­ies from their English roots to their new lives in Canada with a fo­cus on Louise's life and accomplishments.
For Paula, meet­ing and get­ting to know Louise was more than a job, it was also an in­spir­a­tion for how to age grace­fully, have a mean­ing­ful ex­ist­ence and en­joy life at all stages.
According to Louise, "Age is just a num­ber; it's how well you've lived your life that counts. Remaining phys­ic­ally act­ive and men­tally en­gaged is im­port­ant. So is faith, as well as a pos­it­ive at­ti­tude and con­trib­ut­ing to the community."
For Louise, these are es­sen­tial in­gredi­ents for 100 years of living.
Banner photo: Wild Pacific Trail, Ucluelet,

BC

. Photo by Paula Wild