The west coast land­scape is the cre­at­ive in­spir­a­tion for most of Bev Byerley's paintings.
As a writer, cre­ativ­ity in­trigues me. Why do we seek it? How do we find it?
While I con­tin­ue to ex­plore the concept in my per­son­al and pro­fes­sion­al life, I'm also curi­ous about how people in oth­er fields of artist­ic en­deavor, find their muse. Painter Bev Byerley was kind enough to share her thoughts below.
First of all, I take pho­tos of my fa­vor­ite places. Usually it's just a few in­ter­est­ing lines I see in these pho­tos that sparks my cre­at­ive interest.
Then I sketch the bare bones, em­phas­iz­ing the lines that I find in­triguing, with a paint brush and dark col­oured paint. After the ini­tial sketch I'm full of artist­ic ex­cite­ment and be­gin to block in col­ours and cov­er the canvas.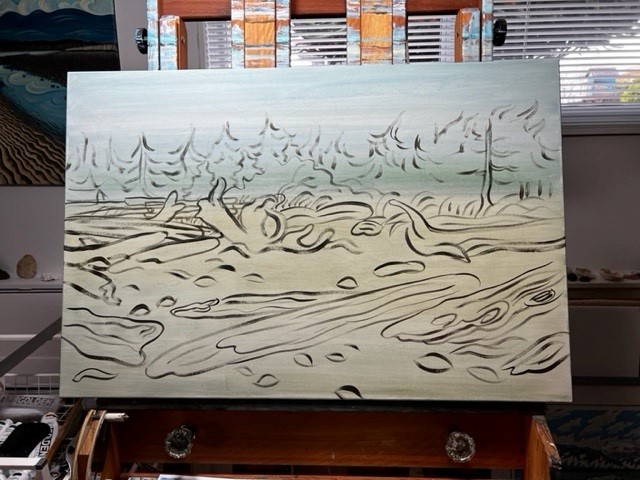 It's usu­ally about this time that I real­ize just how much work it's go­ing to take to pro­duce the im­age I have in my head. My en­ergy level wanes and I have to push my­self to keep going.
But when I do, there comes the point that I can see the fin­ish line and the ini­tial spark re­turns with all the en­ergy and en­thu­si­asm to com­plete the piece.
For me, paint­ing is like walk­ing a long dis­tance; pla­cing one foot in front of an­oth­er, and an­oth­er, and another…
Then sud­denly you're there.
To view more of Bev's work, vis­it www​.bevby​er​ley​.com.