Escape. Whether it's to a sandy beach in Cuba or a steep mountain peak in the Himalayas, everyone longs to get away from their day-to-day routine once in a while.
But as well as leaving something behind, what about moving towards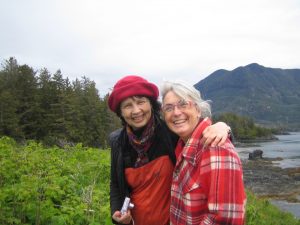 a goal you've held close to your heart for as long as you can remember? Something you really want to do but somehow there's never enough time, inspiration or even just plain know-how.
That's exactly what happened the last week in May when a small group of people brought their ideas and partially completed manuscripts to a Wilderness Writing Retreat at Seawatch Cabins in Nuchatlitz Provincial Park.
Surrounded by pristine wilderness, we discussed focus, point of view and active voice. We debated ways to carve time out of the day to write and the best way to find a publisher. And we all created timelines for finishing our projects.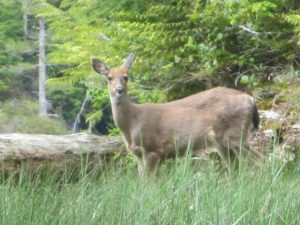 While doing so, we watched a sea otter doing the backstroke in the bay and a martin scampering across the deck each morning. We also saw five bear (from a safe distance) and wolf sign on some of our walks.
I couldn't have asked for more congenial students. Everyone was totally committed to taking their manuscript to the next stage…and did. I'm sure some found the red ink on their work daunting but when I saw the revisions they made, I was astounded at the improvement.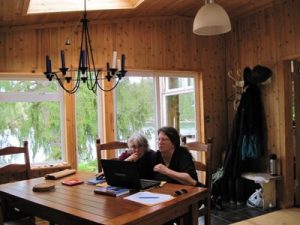 "A balance of private time and group instruction addressed individual projects and skill levels," notes Yvonne Maximchuk. "Paula gave me excellent and pertinent instruction in how to write to my best abilities and helped bring my memoir to a whole new level. I was thrilled!"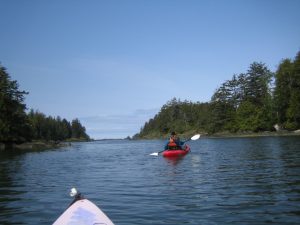 "As a new author I had no idea how to edit my work," adds Dodie Eyer who is working on a children's chapter book. "It was a real turning point for me. And Shannon made us all feel very much at home. The food was delicious, fresh, healthy and attractive. I loved learning how to kayak!"
Yes, neither man nor woman lives by work alone. When not writing, we feasted on sumptuous homemande meals. Shannon Bailey, host for the retreat, wowed us with her flair for putting togeether delightful blends of colour, taste and nutritious cuisine.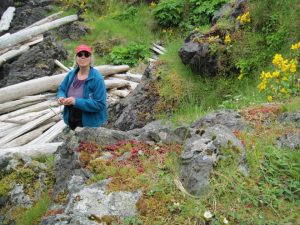 In addition to cooking and working on a young adult novel, Shannon also doubled as wilderness guide and instructor. We kayaked sheltered lagoons, pointed our bows towards the white-crested waves of the open Pacific Ocean and hiked gravel beaches and woodland trails. At night, the silence was enormous, the stars a cascade of light in the sky. 
• yoga on a sunny deck
• the "Aha!" look on participant's faces
• Shannon's stunning back garden
• lively discussions on writing and life in general
• seafood bisque made with oysters picked off the beach
• the profusion of wild flowers at Grassy Knoll
• chocolate brownies topped with rhubarb-strawberry sauce
• seeing manuscripts move from good to very good 
As well as working on writing, friendships were formed, ideas shared and possibilities explored. What a great escape! I can't wait to do it all over again later this year.