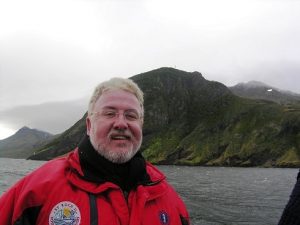 Jim Delgado's affable, dynamic and always doing something cool.
As a maritime archaeologist, he explores old wrecks world-wide and was among the first to dive the Titanic. He was executive director of the Vancouver Maritime Museum for 15 years and hosted the popular TV show, The Sea Hunters, for five.
He's currently director of the Maritime Heritage Program for the U.S. National Oceanic and Atmospheric Administration, as well as being president of the Institute of Nautical Archaeology. He teaches at universities, contributes to scholarly and academic journals and promotes maritime preservation.
Oh yeah, he also writes books. More than 33 of them at last count. Khubilai  Khan's Lost Fleet: In Search of a Legendary Armada won the James Deetz Award in  January. The same month Nuclear Dawn: The Atomic Bomb from the Manhattan Project to the Cold War won the Choice Award for Outstanding Academic Title.
Delgado's newest book, Silent Killers: Submarines and  Underwater Warfare was released in June. And the next one, Iron, Pearls and  Gunpowder: The Incredible Saga of a Lost American Civil War Submarine, is already underway.
So how does he manage to do all this and have a life? I asked Jim and this is what he said:
1. I don't need much sleep.
2. I have a quiet, private office and my wife screens all my calls.
3. I use all my travel time, in airports and on the plane, to work.
There's not much anyone can do about the amount of sleep they  need. But most people can arrange their work space so distractions and  interruptions are kept to a minimum.
And when travelling, what better way to silence the overly chatty person sitting next to you, than flipping open your laptop or note book and announcing, 'I have to work now.'
If you're really serious about writing, you won't wait for time to write. You'll make time.