The first full moon of the year appears in the heart of winter. And, depending on location and culture, it may be called Frost Exploding Moon, Freeze Up Moon or Cold Moon. For obvious reasons, my favourite full moon nickname is Wolf Moon.
It's said that Indigenous people dubbed the January moon Wolf as the predators could often be heard howling throughout the long, dark nights. While some people believe the wolves are howling at the moon, they actually use that form of vocalizing to defend their territory, communicate with other pack members or grieve the death of another wolf.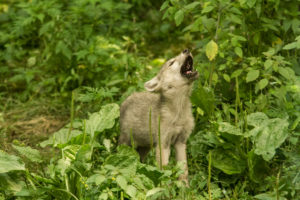 Sometimes wolves seem to howl for the sheer pleasure of it or as a warm-up to the nightly hunt. Young pups learn to howl by watching and listening to their elders.
Although visible for several nights, the official 2021 Wolf Moon will appear in North America the evening of January 28. So, grab your binoculars or telescope and look up.
And speaking of looking up, the reason people think wolves howl at the moon is that, whether they're sitting, standing or lying down, they always lift their snouts to howl. But that's more for the vocal affect than anything in the sky.
Try it yourself by looking down and howling and then tilting your head back and howling again. Not only does the head-back howl sound better, the angle of the throat and mouth also projects the sound over a longer distance.