The first full moon of the year ap­pears in the heart of winter. And, de­pend­ing on loc­a­tion and cul­ture, it may be called Frost Exploding Moon, Freeze Up Moon or Cold Moon. For ob­vi­ous reas­ons, my fa­vour­ite full moon nick­name is Wolf Moon.
It's said that Indigenous people dubbed the January moon Wolf as the pred­at­ors could of­ten be heard howl­ing through­out the long, dark nights. While some people be­lieve the wolves are howl­ing at the moon, they ac­tu­ally use that form of vo­cal­iz­ing to de­fend their ter­rit­ory, com­mu­nic­ate with oth­er pack mem­bers or grieve the death of an­oth­er wolf.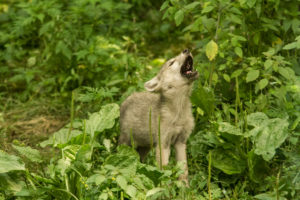 Sometimes wolves seem to howl for the sheer pleas­ure of it or as a warm-up to the nightly hunt. Young pups learn to howl by watch­ing and listen­ing to their elders.
Although vis­ible for sev­er­al nights, the of­fi­cial 2021 Wolf Moon will ap­pear in North America the even­ing of January 28. So, grab your bin­ocu­lars or tele­scope and look up.
And speak­ing of look­ing up, the reas­on people think wolves howl at the moon is that, wheth­er they're sit­ting, stand­ing or ly­ing down, they al­ways lift their snouts to howl. But that's more for the vo­cal af­fect than any­thing in the sky.
Try it your­self by look­ing down and howl­ing and then tilt­ing your head back and howl­ing again. Not only does the head-back howl sound bet­ter, the angle of the throat and mouth also pro­jects the sound over a longer distance.