Wolves vocalize in a variety of ways including snarls, growls, whimpers, whines and occasionally barks. But it's the howl that fascinates humans the most. To us it often sounds sad and lonely but, to a wolf, a howl can mean anything from "Where are you?" to "Keep out of my territory!"
When I visited Wolf Haven International, about an hour's drive south of Seattle, I was treated to a 55-canid howl fest that I'll never forget. At the time I didn't know that each wolf has a howl as distinct as a human fingerprint or that wolves in different regions howl in their own dialects.
Wolf Haven is a globally accredited sanctuary that provides a forever home for captive-born and displaced wolves. The facility also participates in captive breeding programs for endangered Mexican grey wolves and red wolves, as well as caring for some high-content wolf-dogs and coyotes.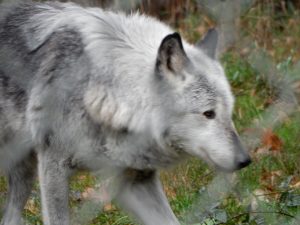 The reservation-only tour featured eight animals, a mix of grey and Mexican grey wolves, wolf-dogs and coyotes that were more at ease with limited human contact. The rest of the animals are secluded for their own comfort.
But Wolf Haven videos provide behind-the-scenes glimpses of wolf life most people will never see. This clip shows four Mexican grey wolf pups being startled by a group howl similar to what I heard. They weren't sure what to think, even when their dad showed them how it's done.
Wolf pups have an innate urge to howl but, just like human babies learning to speak, it takes a while to get it right. In this clip, a litter of red wolves listen to a Wolf Haven howl session then decide to give it a try.
But, in addition to wolf-to-wolf communication, howls have the potential to be so much more. A study in Yellowstone National Park is investigating if recordings of territorial howls can keep wolves away from livestock, while another study in northern India is attempting to estimate the population of the region's elusive, endangered wolves by counting individual howls.