Testimonials for The Cougar
"Paula Wild has mel­ded a most read­able nat­ur­al his­tory of the moun­tain lion with an up-to-date dis­cus­sion of lion eco­logy, in­clud­ing re­la­tion­ships with hu­mans. Writing with be­ne­fit of her un­der­stand­ing of nat­ur­al en­vir­on­ments, Wild paints a fas­cin­at­ing scen­ario of this ad­apt­able big car­ni­vore and its role in dif­fer­ing eco­sys­tems. Combing first-hand ac­counts of moun­tain lion re­search­ers with es­tab­lished sci­entif­ic res­ults, she both in­forms and en­ter­tains. A first-class read for any­one in­ter­ested in this big, cha­ris­mat­ic animal."
~ Maurice Hornocker founder Hornocker Wildlife Institute and Selway Institute, ed­it­or Cougar: Ecology and Conservation.
"The Cougar is a must read for any­one who spends time in cou­gar hab­it­at. Although most people will nev­er see a cou­gar in the wild, the po­ten­tial for danger is very real. Paula Wild uses com­pel­ling first-hand ac­counts and in­form­a­tion from ex­perts to ex­plain what to do if you en­counter a cou­gar, ways to pre­vent an en­counter from turn­ing into an at­tack and how to de­fend your­self if an at­tack oc­curs. I really en­joyed this book."
~ Gary Shelton, au­thor Bear Encounter Survival Guide, Bear Attacks The Deadly Truth and Bear Attacks II Myth & Reality.
"Cougars need writers like Paula Wild! Through her writ­ing style and her ex­tens­ive in­form­a­tion base, she makes the story of this cat come alive in a way that will build ap­pre­ci­ation for the spe­cies, and more than a little won­der about it. She cov­ers the gamut – from the cat's bio­logy and demo­graph­ics to the les­sons people need to live in cou­gar coun­try. With this, will come un­der­stand­ing, and with un­der­stand­ing will come a bet­ter fu­ture for cou­gars. Anyone with an in­terest in cats and wild­life will en­joy this book."
~ Howard Quigley Teton Cougar Project Director and Executive Director of Jaguar Programs at Panthera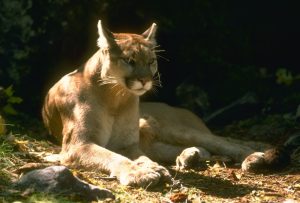 "Mountain lions live among us — more so than of­ten real­ized. While pre­vi­ous au­thors have ef­fect­ively ex­plained how to re­act when face to face with a live moun­tain lion, they have missed a much broad­er ques­tion: 'How sus­tain­able is this co­ex­ist­ence?' Wild delves into this com­plex is­sue by ex­amin­ing a vari­ety of per­spect­ives from moun­tain lion re­search­ers, wild­life man­agers and at­tack vic­tims. By present­ing the his­tor­ic­ally neg­at­ive at­ti­tudes to­ward moun­tain lions along­side the com­plex so­cial and bio­lo­gic­al chal­lenges the spe­cies is cur­rently fa­cing, Paula sparks an eth­ic ne­ces­sary to con­serve moun­tain lions long into the future."
~ Marc Kenyon, Black Bear, Mountain Lion & Wild Pig Programs Coördinator California Department of Fish and Wildlife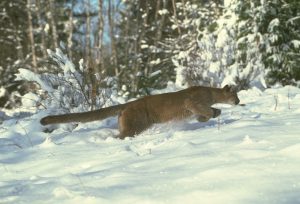 "I'll be chan­ging my Bear & Cougar Encounter Course a bit to in­clude what I've learned from The Cougar Beautiful, Wild & Dangerous. There is no oth­er book on cou­gars like this. It's truly one-of-a-kind and will be valu­able and en­ter­tain­ing for wild­life man­agers and re­search­ers, as well as the gen­er­al public."
~ Dave Eyer, wild­life safety in­struct­or, au­thor Bear & Cougar Encounters Course Handbook.
"Wild an­im­al at­tacks are ex­tremely rare, but any­one who ven­tures into moun­tain lion hab­it­at should be aware of the po­ten­tial danger. We sur­vived a near fatal at­tack in 2007 be­cause we took the time to learn about lion be­ha­viour. Paula provides this type of in­form­a­tion and more in The Cougar."
~ Jim and Nell Hamm, California moun­tain lion at­tack survivors.
"In The Cougar Wild re­veals the hid­den life of these mys­ter­i­ous, mis­un­der­stood and amaz­ing an­im­als. In ad­di­tion to ex­plor­ing cou­gar bio­logy, be­ha­viour and life­style, she also presents a de­tailed his­tory of our re­la­tion­ship with cou­gars that shows how these majest­ic an­im­als have been per­sist­ently and need­lessly per­se­cuted out of pre­ju­dice and fear. Throughout the book, her ac­counts of cou­gar-hu­man in­ter­ac­tions are of­ten dis­quiet­ing, but she re­minds us that these are ex­ceed­ingly rare events. In the end, her mes­sage that hu­mans must learn to co-ex­ist with cou­gars is clear."
~ Rob Laidlaw, ex­ec­ut­ive dir­ect­or Zoocheck, au­thor Saving Lives and Changing Hearts: Animal Sanctuaries and Rescue Centers and Wild Animals in Captivity.
"A clev­erly writ­ten book, tak­ing the read­er on an edu­ca­tion­al and in­form­at­ive jour­ney through the life of cou­gars, both cap­tive and wild."
~ Robyn Barfoot cur­at­or Cougar Mountain Zoo

Click on the nav­ig­a­tion links be­low to read about the books Paula has written.
Banner photo: Courtesy Florida Fish and Wildlife Conservation Committee.