The Cougar
Beautiful, Wild

&

Dangerous
by Paula Wild
70

photographs with colour insert
Published by Douglas

&

McIntyre
Print edition

ISBN

978

−

1

−

77162

−

002

−

4


ebook

ISBN

978

−

1

−

77162

−

003

−

1
"The Cougar is a must read for any­one who spends time in cou­gar hab­itat. Although most people will nev­er see a cou­gar in the wild, the poten­tial for danger is very real. Paula Wild uses com­pel­ling first-hand accounts and inform­a­tion from experts to explain what to do if you encounter a cou­gar, ways to pre­vent an encounter from turn­ing into an attack and how to defend your­self if an attack occurs."
~ Gary Shelton, author Bear Encounter Survival Guide, Bear Attacks The Deadly Truth and Bear Attacks II Myth & Reality.
Both feared and admired, cou­gars are rarely seen, but odds are that a big cat's watched you walk through the woods while you've been totally unaware of its pres­ence. And that's part of what makes the cou­gar an icon of all that is beau­ti­ful, wild and dan­ger­ous.
Cougars have been observed leap­ing 5.5 metres (eight­een feet) straight up from a stand­still, 18.5 metres (60 feet) down from a tree and nearly 14 metres (45 feet) hori­zont­ally onto their prey. They're mys­ter­i­ous and curi­ous, elu­sive and power­ful.
And some­times dan­ger­ous. Cougar encoun­ters are becom­ing more com­mon. Statistics from the past two hun­dred years show that nearly half the attacks on humans have occurred since 1990.
As the biggest cat in Canada, and the second largest in the Americas, cou­gars range from the Yukon to Patagonia. They're found in the wild back coun­try, along the edge of sub­urban devel­op­ments and, at times, in such unlikely places as the down­town park­ing gar­age of the Empress Hotel in British Columbia's cap­ital city of Victoria.
Once one of the most widely dis­trib­uted large mam­mals in the Western Hemisphere, cou­gar pop­u­la­tions were decim­ated by hunt­ing in many areas.
But their num­bers are increas­ing, espe­cially in west­ern Canada and the United States and some are migrat­ing to the mid-west and beyond.
Wild describes the cougar's bio­logy, beha­viour and life­style, as well as sur­pris­ingly fre­quent vis­its to urb­an set­tings. The book exam­ines the lives of cap­tive cou­gars and also presents inform­a­tion on the import­ant role large car­ni­vores play in the del­ic­ate bal­ance of our eco­sys­tem.
The Cougar is a skill­ful blend of nat­ur­al his­tory, sci­entif­ic research, First Nations stor­ies and first per­son accounts. With her in-depth research, Wild explores the rela­tion­ship between moun­tain lions and humans, and provides the most up-to-date inform­a­tion on cou­gar aware­ness and defense tac­tics for people liv­ing, work­ing or trav­el­ling in cou­gar coun­try.
"Paula Wild has mel­ded a most read­able nat­ural his­tory of the moun­tain lion with an up-to-date dis­cus­sion of lion eco­logy, includ­ing rela­tion­ships with humans. Writing with bene­fit of her under­stand­ing of nat­ural envir­on­ments, Wild paints a fas­cin­at­ing scen­ario of this adapt­able big car­ni­vore and its role in dif­fer­ing eco­sys­tems. Personal accounts of moun­tain lion research­ers make this a first-class read for any­one inter­ested in this big, cha­ris­matic anim­al."
~ Maurice Hornocker founder Hornocker Wildlife Institute and Selway Institute, edit­or Cougar: Ecology and Conservation.
The Cougar can be ordered at book­stores through­out Canada and the USA. It can also be ordered from Indigo, Barnes and Noble, Amazon​.ca and Amazon​.com.
If you'd like an auto­graphed copy, please con­tact Paula.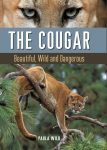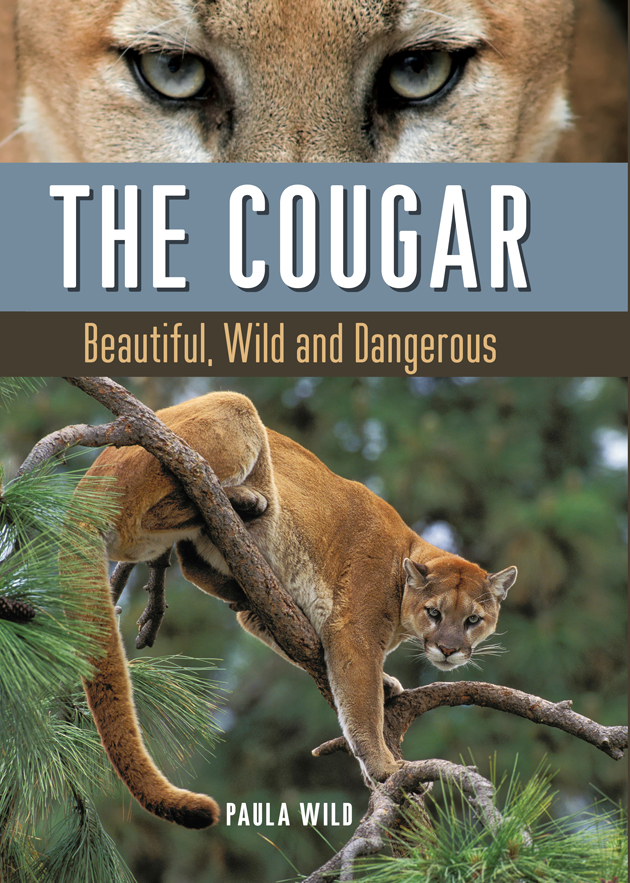 Ebooks can be ordered from Amazon (Kindle), Apple (iBooks), Kobo and Google Play.
To see if Paula is giving a presentation near you visit
Cougar Events.