Return of the Wolf

Conflict & Coexistence
At the top of a rock the height of a two-storey house, the wolf stood silhouetted against the sky. We experienced heavy-duty eye contact for long, silent minutes. I didn't move, perhaps didn't breathe. Time was fluid, at once stretching into infinity and contracting into a single heartbeat. There was no air, sun or rain. Only steady, yellow eyes. And then it was over.
Paula Wild, Return of the Wolf
Douglas & McIntyre October 2018
Silver Medal winner Environment/Ecology Independent Publisher Book Awards
A BC Bestseller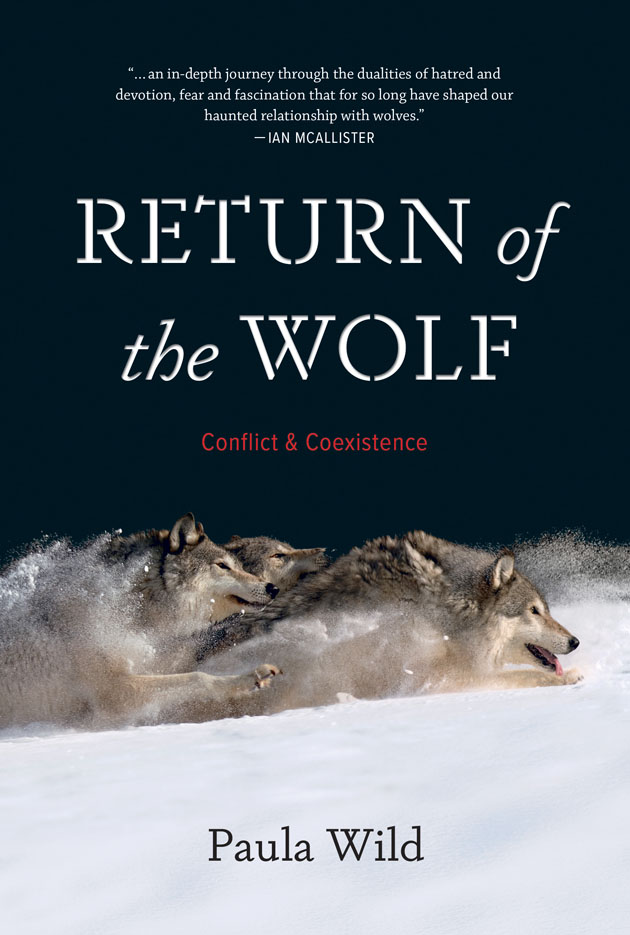 70 photos with a 16 page colour insert
Extraordinary…riveting…astonishing.
~Quill & Quire
Return of the Wolf



Conflict & Coexistence
Wolves were once common throughout North America and Eurasia but by the early twentieth century, eradication programs had drastically reduced their numbers. Now wolves are returning to their ancestral territories and encounters with humans are becoming more frequent.
Return of the Wolf explores our evolving relationship with wolves and how human attitudes affect the behaviour and conservation of the predator today.
As a highly social, intelligent animal, the wolf is proving adept at navigating the challenges of an ever-changing landscape and sharing habitat with people. Wolves are adapting to humans; can humans adapt to wolves?
Combining ancient myths, natural history, science and personal stories, Paula Wild examines what makes wolves so intensely compelling, yet so eternally controversial.
Click here to learn more about Return of the Wolf
Advance praise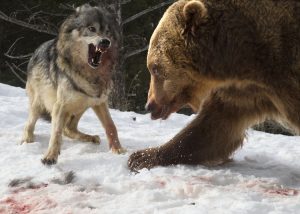 "Paula Wild takes us on an in-depth and fascinating journey through the dualities of hatred and devotion, fear and fascination that for so long have shaped our haunted relationship with wolves. If we fear what we do not understand, then this well researched and insightful book will take us closer to understanding and, hopefully, to compassion for a species maligned for far too long."
-Ian McAllister, Executive Director of Pacific Wild
"This book will be a pleasure for anyone who loves the outdoors or wildlife, and a useful corrective to the myths that surround the wolf."
-Tom Sandborn, The Vancouver Sun
"Return of the Wolf is a timely, important and much needed book. Wild explores diverse perspectives of the often troubled relationships between wolves and humans from around the world and provides insights into ways we can prevent conflict and share the landscape with this amazing predator."
-Bob Hansen, Human-wildlife conflict specialist, Parks Canada (retired)
"Wolves are possibly the most amazingly wonderful animals. They are certainly the most irrationally hated. Paula Wild helps set the record straight by helping us know the real wolf. This is important because wolves belong, because humans and wolves can coexist, and because we must learn to wage peace with them."
-Carl Safina, author of Beyond Words; What Animals Think and Feel
"Want to know where we stand with wolves and where they stand with us? Read Return of the Wolf. You will get an up to date, well researched account of wolf ecology that doesn't lose the heart of wolves as you learn about them."
-Stephen Herrero, author of Bear Attacks: Their Causes and Avoidance
"Wolves need all the help they can get in an increasingly human dominated world. By combining detailed data with numerous stories, Return of the Wolf greatly helps us to understand who these amazing and misunderstood animals are and what they want and need from us, namely, to live in peace and safety. It surely will help to foster coexistence between us and them as we move forward."
-Marc Bekoff, author Canine Confidential: Why Dogs Do What They Do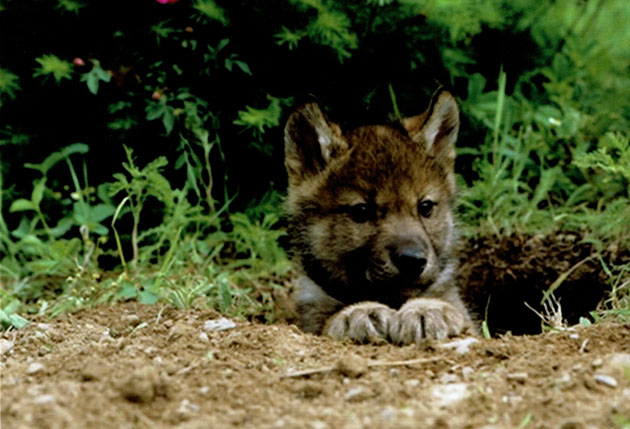 Print editions
Available in Canada October 2018
Available in the USA March 2019
Ebooks
Available in Canada October 2018
Internationally March 2019
Return of the Wolf can be ordered at bookstores throughout Canada and the USA.
It can also be ordered from Indigo, amazon.ca and amazon.com
If you'd like an autographed copy, contact Paula.
Ebooks can be ordered from Amazon (Kindle), Apple (iBooks), Kobo and Google Play.

Banner photo: Lamar Valley Yellowstone National Park. Photo by Jim Peaco, US National Park Service.