This is one of those pick it up and can't put it down books. Station Eleven is engaging, compelling and eerily plausible.
The novel, released in Sept. 2014, is written by Emily St. John Mandel who was born and raised on the west coast of Canada and now resides in New York City. For part of her youth, she was homeschooled on Denman Island which is currently home to about 1,000.
But don't just take my word about the book. Station Eleven has received rave reviews, appeared on the New York Times Bestseller list, been written about in The New Yorker and was shortlisted for the 2014 National Book Awards.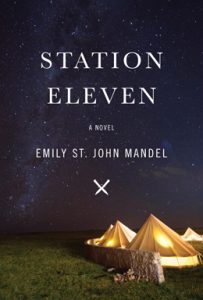 The book is in its sixteenth printing and Mandel has tour dates booked in the USA, United Kingdom, France and beyond into the spring of 2016.
The story takes place sometime in the future after a catastrophic pandemic wipes out huge segments of the population and destroys life as we know it. That means no internet, television, airplanes, automobiles or even grocery stores. Who survives and what must they do in order to do so?
In Station Eleven, Mandel develops a cast of characters, most notably a Shakespearian/music troupe, who travel throughout the Great Lakes region. They search empty homes for canned goods, camp out in Walmart's and airport terminals and do their best to avoid religious fanatics and families who have gone feral.
The writing is a seamless exploration of personalities and relationships, alliances and confrontations. Mandel takes the reader on an epic journey from past to present to portray a vision of endurance, friendship and compassion.
In my former position as arts writer for the Comox Valley Record, I interviewed Mandel and reviewed her first two novels, Last Night in Montreal and The Singer's Gun. Those books were good but Station Eleven is excellent.
And although I usually shy away from books that even hint at dystopian science fiction, Mandel's masterful and genre defying writing found me eagerly picking up Station Eleven each evening and sorry to reach the end.
A few words from Emily:
I wanted to write something quite different from my previous three novels, which were generally categorized as literary noir. I was happy with the way they turned out, but thought it would be interesting to go in a different direction. I love film and theatre, and am interested in the idea of what it means to devote your life to your art, so decided to write about the life of an actor.
At the same time, I was interested in writing about the modern world, this extraordinary place in which we find ourselves: where water comes out of faucets, airplanes cross the sky, lighting a room is as simple as flicking a switch on the wall, and antibiotics are available.
One way of writing about something is to consider its absence, so I thought it would be interesting to set the book in a post-apocalyptic landscape, as a way of considering the modern world. I think of the book as a love letter to the modern world, written in the form of a requiem.
I wrote Station Eleven over the course of two and a half years and spent another three months editing it once I sold it to my publisher.  I'm currently working on a new novel but the topic's a secret!  
To find out more visit www.emilymandel.com.
.