Wolves have cast-iron di­gest­ive sys­tems cap­able of hand­ling frag­ments of bone and shell, an­im­al fur and even the in­tact nails from a seal.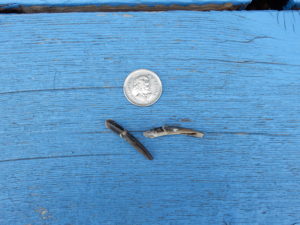 When it comes to food, wolves are op­por­tun­ist­ic. They'll eat ber­ries and have been known to nibble on hu­man food and garbage. String and rem­nants of clothes have also been found in the scat of camp robbers.
Wolf scat looks sim­il­ar to a piece of cord and usu­ally tapers to a point on the end. An adult wolf's scat is usu­ally between 25 to 38 mil­li­metres (one to 1.5 inches) in dia­met­er. If it's runny, the wolf may have re­cently eaten some bloody meat.
Una Ledrew and Dave Ratcliffe were startled when they ob­served chunks of rope in wolf scat near their home. "They were chew­ing on and swal­low­ing ropes of all kinds, plastic rope, big thick rope we use to tie up the skiff," Ledrew said.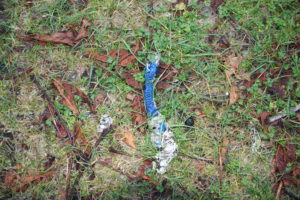 My guess is the wolves were after the salt left be­hind by hu­man hands but some of the rope had been out in the open for ages. Wolf ex­perts I spoke to were baffled as to why wolves would con­sume rope.
Wolf scat is more than just part of a wolf's elim­in­a­tion pro­cess; it's also an im­port­ant part of lupine com­mu­nic­a­tion. Scat is one way wolves' mark their ter­rit­ory and is of­ten found in con­spicu­ous loc­a­tions such as trail intersections.
These visu­al and ol­fact­ory mark­ers serve as a sig­nal to warn oth­er wolf packs out of their ter­rit­ory or to let fam­ily mem­bers know they've passed that way. Wolf scat is also part of nature's re­cyc­ling pro­gram, en­rich­ing the soil wherever it's deposited.
But the biggest sur­prise about wolf scat is but­ter­flies. They aren't in it, they're on it. Apparently, but­ter­flies love wolf scat due to the high con­cen­tra­tion of nu­tri­ents. In fact, nu­mer­ous re­search­ers told me, "If you're look­ing for wolves, look for butterflies."