As carnivores, wolves will eat anything from a mouse to a moose including grasshoppers, birds and frogs.  Although wild wolves will occasionally eat berries, their bodies require meat to survive.
As Jack London wrote in White Fang, a story about a wolf-dog hybrid, "The aim of life was meat. Life itself was meat."
Most wolves obtain their meat from ungulates such as deer, elk, moose, bison and muskoxen. While it's dangerous hunting large animals with horns and hooves, the huge food reward is worth the effort and risk of injury or even death. On the other hand, it takes a lot of mice to fill a wolf's belly and the energy expended is often greater than the calories gained.
While most wolves depend on ungulates for their sustenance, some eat a lot of fish. This has been recorded throughout the world and often involves fish travelling upstream to spawn.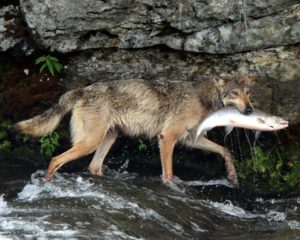 But some wolves rely heavily on fish and marine-related animals year-round. In fact, wolves on some British Columbia coastal islands primarily eat salmon, seals and shellfish, as well as mink and Canada goose eggs. They will even move rocks at low tide to eat tiny molluscs called chitons. Wolves on outer islands may seldom – if ever – see a deer.
Wolves aren't picky about their food. They may cache some meat and dig it up for dinner later, as well as scavenge prey that has died of natural causes or been killed by other animals.
They can easily become used to the easy pickings found at unsecured human garbage dumps and will raid campsites or break into tents and kayak holds to check out human food. Although they probably won't eat much of the food they find this way, they will bite into whatever they can access to check it out.
At times, wolves also kill and eat livestock and pets, which is the major source of their conflict with humans.
Top photo was taken on Ellesmere Island in the high arctic where wolves prey on hares and muskoxen. Photo courtesy Dave Mech