As soon as I heard the voice on the answering machine I knew something big had happened. Then Yvonne's words came singing down the line, "I got a publisher! I'm going to be published!"
The equation can be this simple: a good story + good writing + dedication = published book. The reality is: many people have a great idea for a book, some have the writing skills but few have the dedication to see the project through. But right from the start I thought Yvonne Maximchuk might have all three.
I met Yvonne last May when she took one of my writing workshops. She'd been working on a memoir for five years. But she wasn't sure if her story was good enough and she was having a hard time finishing the manuscript.
After reading the first pages of Drawn to Sea I knew Yvonne had the makings of a story that would engage and intrigue readers. The plot revolves around her decision to remain in an isolated community after a break up with her partner. The challenges were huge. She had two children to support and wondered if she could sell her paintings and pottery from her Simoom Sound location.
Then there were the day-to-day considerations such as getting firewood and travelling back and forth to a larger community to get groceries, medical care and other necessities of life. If she was going to make it, Yvonne knew she had to do three things. Get a chainsaw, get a boat and learn how to operate them.
Drawn to Sea is funny and heart-warming; totally candid and very evocative of place. Vici Johnstone, publisher of Caitlin Press, told Yvonne her writing was lyrical, the story well-paced and that it was a pleasure to read a book where the writer crafted her story like a work of art.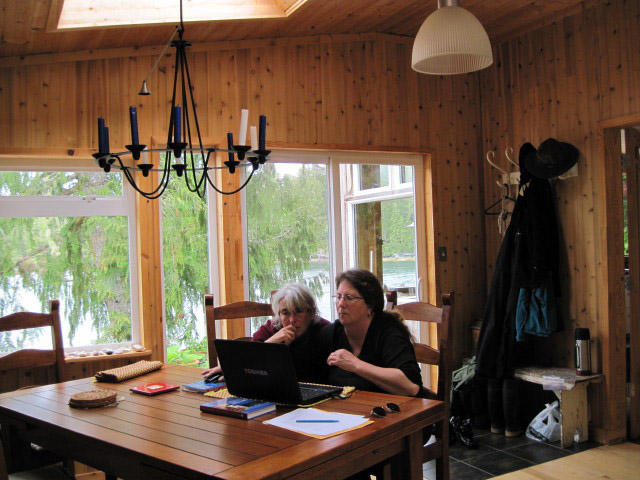 And that's a key part of Yvonne's success. As a self-employed painter and potter, she knows what it means to be disciplined. If you don't sit down and do the work, it doesn't get done. And that can mean the difference between earning a living or starving, completing a book or not.
I'm very proud of Yvonne. And I was touched when she said, "You got me over the last hurdle. Your advice on how to finish a book was brilliant."
I can't wait to see the published version of Drawn to Sea, perhaps featuring one of Yvonne's paintings on the cover. To find out more about one of BC's newest authors visit www.searosestudio.net.