Some say be­ing cre­at­ive has to do with a person's ge­net­ic makeup. Others con­sider it an at­ti­tude. I've learned that the drive to cre­ate can be a lifelong passion.
In 2013, I in­ter­viewed Ruth Dickson about her up­com­ing art show at the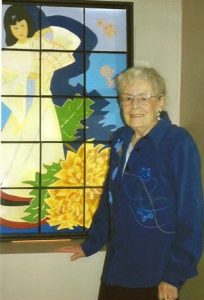 Pearl Ellis Gallery in Comox, BC. Within the last 12 months, she had com­pleted nearly 52 paint­ings and pub­lished her sixth book. She was nearly 95 years old.
As a young moth­er liv­ing in the isol­ated com­munity of Sayward, BC, Ruth played around with her children's paints and pas­tels. Later, when the fam­ily moved to Cowichan, she took her port­fo­lio to the University of Victoria and was ac­cep­ted into the second year of the art pro­gram. Eventually she taught classes in oil paint­ing, silk­screen and batik at Malaspina College (now Vancouver Island University).
When Ruth turned 90, she de­cided she'd lived long enough to have some­thing to say about her past. So, she took her walk­er and a ma­nu­script to a week-long work­shop at the Victoria School of Writing. "I was the old­est stu­dent they'd ever had," she said. "But they thought my work was funny and in­ter­est­ing and were ex­cited about it."
Ruth wrote the first draft of her books in longhand as it "helped her think." She taught her­self to type and tran­scribed her first two, po­etry col­lec­tions on an old Remington type­writer. For later books, Ruth joined the tech­no­lo­gic­al age, not­ing that she loved everything about com­puters ex­cept learn­ing a new word-pro­cessing program.
Ruth cred­its her love of the out­doors and her rich fantasy life to grow­ing up in re­mote loc­a­tions on Scottish light sta­tions and the Canadian Prairies.
She was al­ways curi­ous and eager to learn but, due to the Depression, was un­able to re­ceive as much edu­ca­tion as she wanted. Instead, after mar­ry­ing in 1941, she vowed to learn some­thing new every year.
"I dis­covered you can learn your whole life — and to nev­er be afraid to try some­thing new," she said.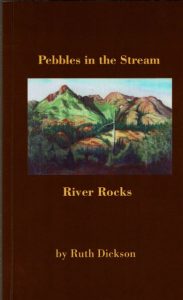 In her mid-to late nineties, Ruth's nor­mal routine was to paint one week and write the next. One wall of her spare bed­room con­tained a table and paint­ing sup­plies, while the oth­er was set up for her lit­er­ary endeavours.
Despite health chal­lenges in her later years, Ruth ac­cep­ted a com­mis­sion to cre­ate a two-metre paint­ing of a great white shark. She also par­ti­cip­ated in an hour-long Port Townsend, Washington ra­dio pro­gram shar­ing the story of how, as a young moth­er, she shot at a cou­gar sneak­ing up on her baby's car­riage. And, when a rat made a brief ap­pear­ance in her apart­ment, she in­cor­por­ated a much cuter ver­sion of the un­wel­come guest in a baby sweat­er she knit­ted to cel­eb­rate the birth of a great-grandchild.
Despite our age dif­fer­ence, my in­ter­view with Ruth evolved into many emails, phone calls and vis­its over tea and cook­ies. She was a lively, en­ter­tain­ing com­pan­ion and will al­ways be an in­spir­a­tion to me on how to re­main curi­ous, en­gaged and cre­at­ive through­out life.
Ruth passed away in Courtenay, BC on March 12, 2021 at age 102. Wherever her spir­it has gone, I'm sure a paint­brush, note­book and com­puter are close at hand.
When You're 97 is a col­lec­tion of hu­mor­ous draw­ings and com­ments Ruth cre­ated as a light­hearted look at the chal­lenges of grow­ing old.