In North America, WD-40 is a house­hold name. Nearly every­one has one of the small blue and yel­low can­is­ters un­der their kit­chen sink or on a work­shop bench in the base­ment or garage.
Marketed as "The Can with 1,000 Uses," people of­ten use WD-40 to stop squeaks, pre­vent rust and re­move dirt from hard to reach places. In our house it's the go-to can for fix­ing squeaky door hinges and loosen­ing nuts and bolts.
A vis­it to www​.wd40​.com re­veals oth­er pos­sible applications:
clean­ing and lub­ric­at­ing gui­tar strings
eras­ing cray­on art­work from walls
un­tangling jew­ellery chains
keep­ing flies off cows
clean­ing bowl­ing balls
get­ting pea­nut but­ter out of shoestrings
pre­vent­ing bath­room mir­rors from fog­ging up
giv­ing a floor that "just waxed" sheen without leav­ing it slippery
(Just so you know, the 2,000+ list of po­ten­tial uses found on the WD-40 web­site has been com­piled from pub­lic sub­mis­sions and in no way im­plies en­dorse­ment by WD-40 or me.)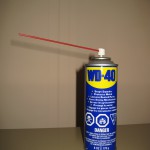 The su­per spray was de­veloped in 1953 by California res­id­ent Norm Larsen. As founder of the Rocket Chemical Company, he was look­ing for a way to re­pel wa­ter and pre­vent cor­ro­sion. His in­ven­tion was first used to pre­vent rust and cor­ro­sion on the out­er skin of the Atlas mis­sile and was avail­able on store shelves by 1958.
But the really in­ter­est­ing thing about WD-40 is its name. The WD stands for wa­ter dis­place­ment. And the 40 in­dic­ates that the for­mula was Larsen's 40th at­tempt. That's right. He re­worked and tested his idea 40 times be­fore cre­at­ing some­thing marketable.
And what does this have to do with writ­ing? Lots, ac­tu­ally and I'm not talk­ing about lub­ric­at­ing your squeaky of­fice chair.
We've all heard about fam­ous au­thors who re­ceived mul­tiple re­jec­tions be­fore get­ting pub­lished. Here are some fig­ures I found on the Internet:
J.K. Rowling's ma­nu­script was re­jec­ted

12

times be­fore her first Harry Potter book was published
The Diary of Anne Frank re­ceived

15

rejections
John Grisham's A Time to Kill was turned down by

16

publishers
Williams Golding's clas­sic, The Lord of the Flies, col­lec­ted

20

re­jec­tion slips
Margaret Mitchell's Gone with the Wind re­ceived

38

rejections
Jack Canfield's Chicken Soup for the Soul re­ceived a whop­ping

134

rejections
Just like Larson, theses au­thors didn't give up un­til they suc­ceeded. They kept pol­ish­ing and re­view­ing their work and send­ing it out un­til a pub­lish­er said "yes."
Everyone struggles with cre­at­ive en­deavors from time to time. Getting some­thing right isn't al­ways easy. It usu­ally re­quires hefty amounts of com­mit­ment, time and en­ergy. And some­times it seems like the most sens­ible thing to do is give up.
That's when a little in­spir­a­tion can help a lot. Not every­one has a copy of Harry Potter and the Philosopher's Stone on hand to re­mind them of what J.K. Rowling went through be­fore she achieved her goal. But most folks have one of those little blue and yel­low cans in the house or garage.
So, when in doubt, get the WD-40 out. If Larson could do it, maybe you can too.