Whatever the occa­sion, go­ing to town re­quires thought as to dress, or could re­quire thought if one was giv­en to care. A quick run to the feed store or Central Builders is pretty straight­for­ward. But for such an event as a book launch, espe­cially if it is one's own book launch, may call for a bit addi­tional consideration.
If it is a high-brow lit­er­ary event, would I wear the tried and true tweed jack­et with suede el­bow patches, pos­sibly over a sweat­er vest? — how time­less is that combo? Or is it so dated to be pathet­ic. Or per­haps I could try the po-mo look — lots of black, maybe even a fake pier­cing and a temp 'tat.'
My cri­teria are not driv­en by the whims and caprice of the Style Section of the Globe and Mailwhich we buy each Saturday, but rather by neces­sity. Something that doesn't show dog hair is high on the list. There is enough black hair in the seat crevices and cranny's of my truck to knit a new hound. Something that relates to the weath­er, usu­ally water­proof, rein­forces the gum­boot archetype.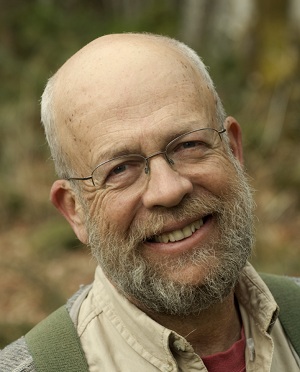 But really, I don't care. I take les­sons from my Grandpa. His long legs were per­petu­ally clad in blue den­im over­alls. Annually, upon Grandma's ur­ging, he bought a new pair, stiff as boards, which he ini­tially saved for church. After a few months, they be­came his town and house pair. Eventually they were worn in the shop, on the tract­ors and in the calv­ing barn do­ing the chores he loved. After a year or so on this duty, they were fit only for wipe rags. Grandma made quilt squares from any sec­tion that was not thread­bare, grease stained or soiled by the wet but messy mir­acles of anim­als, but there were only few.
But it is not your clothes that are no­ticed at a book launch. It's your fingernails.
I gave a talk re­cently and was set­ting up to sell and sign books to the good folks in line, money in hand. I glanced down at my hands and saw the half-moon of cargo delin­eat­ing each and every nail. Not only that but there was a stub­born smear of chain­saw oil giv­ing the edge of my hand a del­ic­ate blush of purple, not un­like a fresh bruise. Various scratches. Enough grit in my fin­ger­tips to make cop prints and a dust­ing of Merville Silt, appar­ently a par­tic­u­lar nox­ious ele­ment accord­ing to the Sears Carpet Cleaning Technician who does our rugs once a year.
So, as the first pink-fingered, smooth-handed lady passed me my book to sign, I al­most felt the urge to make some glot­tal grunt to match what really mattered, my hands there on the page. Now her page. Soiled. She glanced down at the vir­ginal page, at my stub­born grime and made a small si­lent "Oh" with her mouth. I felt her gaze, looked up, and gave a wan smile.
Don't worry about the clothes, check your fin­ger­nails first.
Paula's note: Harold ori­gin­ally sent the above in as a com­ment to Preparing to Launch, a guest blog by Susan Ketchen. It's so well writ­ten — and funny — that I de­cided to run it as Preparing to Lauch Part 2.
The sub­ject of clothes, fin­ger­nails and po­ten­tially em­bar­rass­ing mo­ments that hap­pen to au­thors at book sign­ings seems to have struck a chord for many writers. Check back in a couple of weeks for Preparing to Launch Part 3 & 4.