Here's the third in­stall­ment of Four Writers, Four Questions. Installment #4 will be pos­ted next week.
What are you work­ing on right now?
I have a com­bin­a­tion of light and in­tense work on the daily writ­ing menu right now. I've just fin­ished co-au­thor­ing Watershed Moments‑A Pictorial History of Courtenay and District. It was a great ex­per­i­ence work­ing with my co-au­thors and the ed­it­ors at Harbour Publishing.
This pro­cess in­spired me to go back to my second nov­el, Snow on the Monashee and clean it up. This is light work and gives me a view of how my ap­proach to writ­ing- and the world- has changed since I wrote it in 2014.
My more in­tense work is cre­at­ing an out­line for a new his­tor­ic non-fic­tion book. I love re­search and dis­cov­ery so this is ex­cit­ing and I en­joy put­ting pieces of a puzzle to­geth­er and cre­at­ing an out­line. The nice thing about out­lines is that they're so flu­id. The ba­sic bones re­main the same as I move along; but the flow around them changes as I progress.
Why is this mean­ing­ful to you?
Right now, be­ing able to move back and forth between fic­tion and non-fic­tion is mean­ing­ful to me. Until re­cently, I've put them into two cat­egor­ies, as though I had to choose between one friend and an­oth­er. Non-fic­tion has al­ways been my "work" as a cur­at­or and con­tract­or. It's en­joy­able, but I use dif­fer­ent pro­cesses for it than I do for fic­tion. I'm learn­ing that cre­at­ing both im­proves my writing.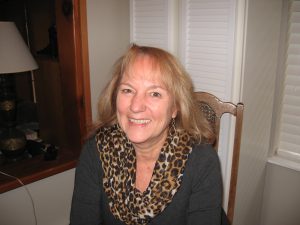 When work­ing on Watershed and talk­ing to Paula about it, she gave me some great ad­vice about present­ing his­tory in a pleas­ur­able read­ing style. Seeing the re­sponse to the book and work­ing with the oth­er au­thors' styles has been an eye-open­er. I've be­gun to worry less about what read­ers think about my writ­ing and to fo­cus more on what I bring to life and the read­ers' enjoyment.
I've also re­cently been read­ing books like In Fact: The Best of Creative Non-Fiction by Lee Gutkind. This has helped me re­move my self-im­posed style bound­ar­ies between fic­tion and non-fiction.
What is your process?
My pro­cess in­volves tak­ing my curi­os­ity and wrap­ping that up with a love of work, daily routine and fo­cus. Pair this with in­ter­mit­tent pro­cras­tin­a­tion, in­sec­ur­ity and second-guess­ing and it's a typ­ic­al week.
For on­go­ing learn­ing, I read a lot. I also sub­scribe to a couple of blogs that delve into the nitty-gritty of writ­ing and push me. One is Daphne Grey Grant's Publication Coach (Vancouver) blog. Her take is that writ­ing is open to the pub­lic and it's not a high­er mys­tery. It re­quires or­gan­iz­a­tion, work, strategy and in­spir­a­tion from read­ing, listen­ing and all as­pects of life.
Finally, I have won­der­ful friends and fam­ily who are pa­tient with my rough drafts and pro­jects. My fam­ily tends to see plain-old-every­day writ­ing as a fine means of ex­pres­sion. The more hu­mour the bet­ter. Growing up, my fath­er wrote poems and put them into our brown-bag lunches. My moth­er was a cross­word afi­cion­ado and more. My uncle is 97 and just pub­lished a book of 97 poems. The list goes on. How lucky could I be?
Why do you write?
I write be­cause it's a cre­at­ive state of con­stant im­prove­ment, learn­ing and dis­cov­ery. It's a world of ac­know­ledging and fol­low­ing con­nec­tions and pos­sib­il­it­ies. I'm able to take my pick of sub­jects: people, nature, an­im­als, land­scapes, sea­scapes and sky­scapes, past, present, fu­ture-and run with it. A free-range writer.
Deborah Griffiths is the au­thor of two fic­tion books (writ­ten un­der the pen name Deborah Greene) and three non-fic­tion books in­clud­ing Heather's Amazing Discovery (fi­nal­ist, children's non-fic­tion, Vancouver Children's Literature Roundtable) and Water­shed Moments — A Pictorial History of Courtenay and District (with Christine Dickinson, Judy Hagen and Catherine Siba).