"Their ears are like radar. They can smell a man from three to four kilo­metres away. And their eyes… they can see through everything," Ion Maxisimovic says in Wolf Hunter, a doc­u­ment­ary film by James Morgan.
Wolves are built to move and that in­cludes an aero­dy­nam­ic head fea­tur­ing a sleek muzzle lead­ing to tri­an­gu­lar-shaped ears that are gently roun­ded on top. Each ear can be in­de­pend­ently ro­tated cre­at­ing op­tim­al an­ten­nae for pick­ing up sounds.
According to Wolf Watch UK, do­mest­ic dogs can hear up to six­teen times bet­ter than hu­mans. Experts say a wolf's hear­ing is even more acute and that they can hear noises ten to six­teen kilo­metres (six to ten miles) away on open ground. It's also sus­pec­ted that wolves can hear fre­quen­cies as high as 80 kHz com­pared to a human's up­per range of 20 kHz.
Wolf pups open their eyes when they're around two weeks old and be­gin to hear sounds after three weeks. Ears play an im­port­ant role in wolf body lan­guage and com­mu­nic­a­tion. Wolves cock their ears to in­dic­ate alert­ness, ag­gres­sion, play­ful­ness or sub­mis­sion. And, along with eyes, ears, mouth, hackles, tail and pos­ture, ears con­vey mood, status, sexu­al in­terest and intent.
Dogs evolved from wolves and, over the cen­tur­ies, have been bred to ful­fill the de­sires of hu­mans, wheth­er that be as com­pan­ion, work an­im­al or simply the trendy fash­ion ac­cess­ory of the day.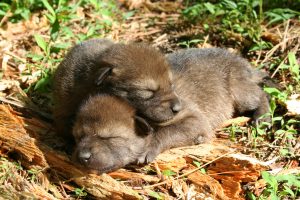 Studies show that a large pro­por­tion of people are at­trac­ted to dogs with floppy ears and short­er, roun­ded muzzles. These are ju­ven­ile char­ac­ter­ist­ics that all dog and wolf pup­pies have. As wolf pups grow, how­ever, their ears stand up­right and their snouts lengthen, where­as many dogs' do not.
The top photo shows an adult red wolf wait­ing to be trans­por­ted to a site for re­lease into the wild. It's well be­yond the puppy stage and its ears are erect. The po­s­i­tion of the ears, the eyes and the gen­er­al pos­ture of the wolf shows that it is stressed. Photo by B. Bartel, US Fish and Wildlife Services