In North America, WD-40 is a house­hold name. Nearly every­one has one of the small blue and yel­low can­is­ters under their kit­chen sink or on a work­shop bench in the base­ment or gar­age.
Marketed as "The Can with 1,000 Uses," people often use WD-40 to stop squeaks, pre­vent rust and remove dirt from hard to reach places. In our house it's the go-to can for fix­ing squeaky door hinges and loosen­ing nuts and bolts.
A vis­it to www​.wd40​.com reveals oth­er pos­sible applic­a­tions:
clean­ing and lub­ric­at­ing gui­tar strings
eras­ing cray­on art­work from walls
untangling jew­ellery chains
keep­ing flies off cows
clean­ing bowl­ing balls
get­ting pea­nut but­ter out of shoes­trings
pre­vent­ing bath­room mir­rors from fog­ging up
giv­ing a floor that "just waxed" sheen without leav­ing it slip­pery
(Just so you know, the 2,000+ list of poten­tial uses found on the WD-40 web­site has been com­piled from pub­lic sub­mis­sions and in no way implies endorse­ment by WD-40 or me.)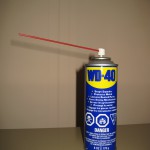 The super spray was developed in 1953 by California res­id­ent Norm Larsen. As founder of the Rocket Chemical Company, he was look­ing for a way to repel water and pre­vent cor­ro­sion. His inven­tion was first used to pre­vent rust and cor­ro­sion on the out­er skin of the Atlas mis­sile and was avail­able on store shelves by 1958.
But the really inter­est­ing thing about WD-40 is its name. The WD stands for water dis­place­ment. And the 40 indic­ates that the for­mula was Larsen's 40th attempt. That's right. He reworked and tested his idea 40 times before cre­at­ing some­thing mar­ket­able.
And what does this have to do with writ­ing? Lots, actu­ally and I'm not talk­ing about lub­ric­at­ing your squeaky office chair.
We've all heard about fam­ous authors who received mul­tiple rejec­tions before get­ting pub­lished. Here are some fig­ures I found on the Internet:
J.K. Rowling's manu­script was rejec­ted

12

times before her first Harry Potter book was pub­lished
The Diary of Anne Frank received

15

rejec­tions
John Grisham's A Time to Kill was turned down by

16

pub­lish­ers
Williams Golding's clas­sic, The Lord of the Flies, col­lec­ted

20

rejec­tion slips
Margaret Mitchell's Gone with the Wind received

38

rejec­tions
Jack Canfield's Chicken Soup for the Soul received a whop­ping

134

rejec­tions
Just like Larson, theses authors didn't give up until they suc­ceeded. They kept pol­ish­ing and review­ing their work and send­ing it out until a pub­lish­er said "yes."
Everyone struggles with cre­at­ive endeavors from time to time. Getting some­thing right isn't always easy. It usu­ally requires hefty amounts of com­mit­ment, time and energy. And some­times it seems like the most sens­ible thing to do is give up.
That's when a little inspir­a­tion can help a lot. Not every­one has a copy of Harry Potter and the Philosopher's Stone on hand to remind them of what J.K. Rowling went through before she achieved her goal. But most folks have one of those little blue and yel­low cans in the house or gar­age.
So, when in doubt, get the WD-40 out. If Larson could do it, maybe you can too.