Eighteen months ago I shif­ted my focus to cou­gars, the sub­ject of my next book. After a peri­od of intense research, I began organ­iz­ing all the inform­a­tion I'd gathered.
It was an immense job that involved sort­ing through a Bankers Box full of files and an equally massive amount of inform­a­tion saved on my hard drive. And then one day it was done.
"What now?" I wondered. Then it hit me: it was time to start writ­ing the book.
But how? I knew what I wanted to say but what about that all import­ant first sen­tence? I searched my mind. All I found was an image of the Sahara desert, a totally empty land­scape stretch­ing into infin­ity. Just like the blank screen on my com­puter.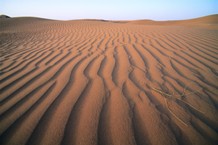 A knot of pan­ic formed in my chest. Breaking the house­hold rule of not inter­rupt­ing each oth­er when we're writ­ing, I rushed into Rick's office. "It's time to start writ­ing my book and I don't know what to do," I announced.
"It hap­pens to me every time I write an art­icle," he replied then con­tin­ued tap­ping away on his key­board.
I trudged back upstairs and shuffled some papers around on my desk. I called my mom. I made a cup of tea. I changed the water in the dog's bowl. And then I laughed. I was employ­ing the old­est writ­ing trick in the world – pro­cras­tin­a­tion.
My brain is sharpest in the morn­ing and by then it was late after­noon so I let myself off the hook for the day. The next was filled with errands down­town but the day after that…I had to start the book.
I wondered how I'd ever found the elu­sive first sen­tences of my oth­er books. To be per­fectly hon­est, at that moment, I had no idea. The whole concept of writ­ing the first sen­tence of a book seemed daunt­ing, per­haps impossible.
People new to the craft of writ­ing often ask me for advice. So I asked myself what I'd tell them about start­ing a book. At least that was a ques­tion I could answer. "Just jump in and do it," I'd say. "Don't worry about it too much, you can always change it later. Something will come to you even­tu­ally."
And the next morn­ing, while I was walk­ing the dog, it did.
Heavily fall­ing snow covered our boot prints almost as soon as we made them. The fat white flakes, the forest around us and the arrival of twi­light meant vis­ib­il­ity was fad­ing fast. And right in front of us, filling with snow as we stared, were the large foot­prints of a cou­gar….
It might not be per­fect and would prob­ably change over time. But, at last, I had a way in. I could start the book.