Sometimes it seems like the stars have to be per­fectly aligned in the heav­ens for any real writ­ing to be done, nev­er mind start­ing and fin­ish­ing a book.
But there are some ele­ments that help. Inspiration is one but it's un­pre­dict­able at the best of times. It's far bet­ter to use what I call the the writ­ing triangle.
The tri­angle is com­posed of a place, a time and a plan.
Every writer de­serves – and needs – a place to write. Some folks are happy at the kit­chen table or su­per cre­at­ive at the loc­al cap­puccino bar. Personally, I think to be most ef­fect­ive, a per­son should have a room – no mat­ter how small – that they can call all their own. If need be, it can even be part of a room. What's im­port­ant is that this be a place where you will not be disturbed.
Once you have a place, you need a time. And that doesn't mean whenev­er you can make time or the cre­at­ive muse hap­pens to strike. If you are ser­i­ous about writ­ing you will make time to pur­sue your craft on a reg­u­lar basis.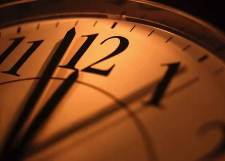 This might be a couple of hours in the morn­ing be­fore you go to work, two hours after the kids go to bed or four hours on Saturdays. The im­port­ant de­tail here is to have a reg­u­lar time and stick to it. Make this your time for writ­ing, wheth­er you feel like it or not. Believe me, if you sit in front of a blank screen long enough, the bore­dom will make you want to write.
And, con­trary to pop­u­lar opin­ion or a strong sense of re­spons­ib­il­ity or guilt, very few things will hap­pen that re­quire your im­me­di­ate at­ten­tion. Years ago when my step-daugh­ter was young, I had my writ­ing desk in a corner of the liv­ing room. After many in­ter­rup­tions I nicely but firmly asked her not to dis­turb me un­less we needed to evac­u­ate the house or someone needed to go to the hos­pit­al. It worked. (But hav­ing a private place makes it easier.)
Now for the plan part. If you want to fin­ish a book and not make it your life work, it's best to give your­self a dead­line. Let's say you're start­ing your pro­ject on January 1 and want to have a com­pleted first draft by Sept. 1. Divide those 35 weeks by the num­ber of chapters you es­tim­ate your book will have. Now you know how much time you can de­vote to each chapter. For ex­ample 35 weeks di­vided by 16 chapters means you can spend about two weeks writ­ing each chapter.
Don't be overly op­tim­ist­ic – va­ca­tions and life hap­pen and you want to en­joy them. But you also want to fin­ish your book. And don't get overly anal about your plan; it is a guideline, not writ­ten in stone.
Every time I be­gin a book I make a plan and ad­just it as ne­ces­sary. That means once a month or so I check my plan to see how I'm do­ing. To date I've nev­er fin­ished a draft or book when I ini­tially thought I would, but without a place, time and plan, I know it would have taken me much longer.