So here I was — proud as a new par­ent — with a fin­ished ma­nu­script in a tidy stack on my desk. Virginal white pa­per, ap­pro­pri­ate font, neat mar­gins, prop­erly pa­gin­ated and oh so vulnerable.
But now I faced that big jump from per­son­al writ­ing to po­ten­tial ex­pos­ure to the whole wide world. And, like many a new par­ent, I wondered how this baby of mine would ever walk on its own.
To take that first step the old school meth­od says to look for pub­lish­ers who spe­cial­ize in your par­tic­u­lar genre — fic­tion, po­etry, mem­oir or es­say — and write a let­ter of in­quiry hop­ing that one of them will be in­ter­ested and re­quest a sample chapter or two which may then lead to a con­tract. Ah, hope, the writers fa­vour­ite drug.
When I was through the second draft of The Four Storey Forest I did just that — found pub­lish­ers who pro­moted West Coast and Vancouver Island writers. I sent out let­ters of in­quiry and anxiously walked to the mail­box every day in an­ti­cip­a­tion. Out of the ten let­ters I wrote, I got not one response.
Refusing to be dis­cour­aged, I car­ried on re-writ­ing, search­ing for a pub­lish­er and fol­low­ing sug­ges­tions from pub­lished authors.
Simultaneously, I began ex­plor­ing the world of self-pub­lish­ing. I was leery of this due to the stigma as­so­ci­ated with the term "van­ity press" and the pure driv­el it of­ten spawns. I thought if my writ­ing made it through the scru­tiny of a pub­lish­er, it would surely be bet­ter. I learned there are ed­it­or­i­al con­tri­bu­tions and there is pub­lish­ing and while I thought the two were in­ex­tric­able, they are not!
Nearing what I thought was a com­pleted book, I sought out freel­ance ed­it­ors. You get what you pay for so I'd ad­vise any­one tak­ing this route to shop around and check ref­er­ences thor­oughly. My first "ed­it­or" seemed a little too in­ter­ested in sign­ing me up for pro­duc­tion ser­vices as he heaped un­earned praise on my raw and truly un-pub­lish­able work.
At the same time, I looked into self-pub­lish­ing. Two sources of good in­form­a­tion were the Vancouver Desktop Publishing Centre and Printorium Bookworks. The first is con­nec­ted with the won­der­ful magazine Geist, which is a great read in it­self. The second is a print shop that has an ex­cel­lent how-to guide for self-pub­lish­ing. However, I was not yet convinced.
In self-pub­lish­ing, the au­thor re­tains full re­spons­ib­il­ity for and con­trol of con­tent, cov­er design, and distribution/​promotion. This ob­vi­ously means a lot more work. It is an odd para­dox; writ­ing is a sol­it­ary anti-so­cial act, yet mer­chand­ising the fin­ished self-pub­lished work re­quires one to stand up and be­come a shame­less hust­ler. Some can do this, oth­ers cannot.
Another factor is that many lit­er­ary con­tests do not ac­cept self-pub­lished books simply be­cause of my ori­gin­al fear — so much dross on pa­per. Nor are self-pub­lished works eli­gible for the most of the few grants available.
So the choice is: sell your soul to a pub­lish­ing house and in re­turn for the pit­tance earned, gain pro­fes­sion­al ed­it­or­i­al sup­port and wider pub­li­city, sales and dis­tri­bu­tion but re­lin­quish a cer­tain amount of in­come and con­trol; or buy what proofread­ing and cri­tiquing you need and opt for self-pub­lish­ing, ac­cept­ing the joys and sor­rows it may bring.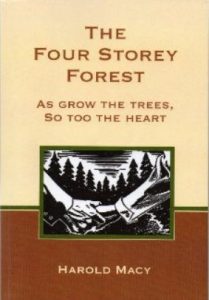 For The Four Storey Forest I was for­tu­nate enough to dis­cov­er a third way. Through a net­work of oth­er writers I found a Comox Valley "mom and pop" pub­lish­ing com­pany who had put out a few books of schol­arly note and who were in­ter­ested in branch­ing out to niche mar­kets with new writers.
So Poplar Publishing did the lay­out, fi­nal proof­ing, some edit­ing and worked with the print­er. The real nuts and bolts stuff. Collectively we cre­ated the cov­er design. Promotion and pub­li­city are my re­spons­ib­il­ity as is ship­ping. My pub­lish­er has a web page with a PayPal ser­vice which means my book has an e‑life. My book baby has taken its first steps out into the world.
I re­cently star­ted work­ing on a nov­el, breath­ing life into the second draft of a ma­nu­script that has been col­lect­ing dust for longer than I care to ad­mit. However, it is still a good story and, when fin­ished, I'll go back to Poplar Publishing and hope they'll take it on. There's that word again. Hope.