Wolves and dogs have com­plex re­la­tion­ships. At times, they ig­nore each oth­er, play to­geth­er or even mate. But, more of­ten than not, wolves at­tack dogs, in­jur­ing and even killing them.
That's what happened on middle Chesterman Beach over Labour Day week­end. Located a scant six kilo­metres from Tofino and ad­ja­cent to Pacific Rim National Park Reserve (PRNPR), the beach is rimmed with stately homes, va­ca­tion rent­als and anchored at the north­ern end by Wikaninnish Inn. It's a pop­u­lar spot for loc­als and tour­ists vis­it­ing Vancouver Island's rugged west coast.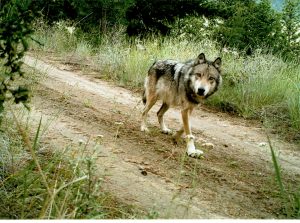 The tracks in the sand and marks on the me­di­um-size dog in­dic­ate it was prob­ably at­tacked by two wolves not far from home. While re­search­ing Return of the Wolf, I talked at length with Bob Hansen, cur­rently with WildSafe BC and Todd Windle, hu­man-wild­life co­ex­ist­ence spe­cial­ist at PRNPR. They told me that con­flicts with wolves were neg­li­gible pri­or to the late 1990s. But now wolves in the re­gion at­tack about a dozen pets – dogs and cats – per year.
In the last three years nu­mer­ous dogs have been at­tacked and two killed. In 2016, a man walk­ing two ap­prox­im­ately 36 kilo­gram (80 pound) dogs near the Kwisitis Visitor Centre was forced to seek sanc­tu­ary on the closed centre's deck and call 911 due to one or more wolves stalk­ing his leashed dogs.
Two par­tic­u­larly bold wolves were killed in 2017. Although there were still wolves in the area — they were of­ten seen on trail cam­er­as – at­tacks on pets ceased.
Many people be­lieve that wolves at­tack dogs to pro­tect their ter­rit­ory. This is true, but wolves also see dogs and oth­er do­mest­ic an­im­als as prey and kill them for food. Hunting wild prey re­quires a great ex­pendit­ure of en­ergy and, in the case of hooved and horned or antlered an­im­als, is fraught with danger. Even so, a single wolf can take down an elk or moose. In com­par­is­on, do­mest­ic an­im­als are the equi­val­ent of a per­son pick­ing up a take-out dinner.
So, why would any­one let their dog lose in wolf coun­try? In PRNPR and ad­ja­cent areas, one reas­on is sand. Vast ex­panses of it are dog heav­en when it comes to run­ning and who doesn't want to see their dog get a ton of ex­er­cise and have fun?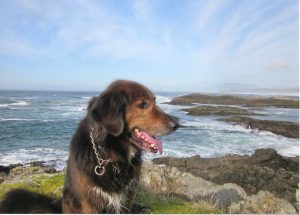 I know, be­cause I've let my dog run free on those beaches in the past. Granted, I had pep­per spray and an air horn. But the real­ity is, most of the time, Bailey would have been too far away for me to in­ter­vene if a wolf went after him. Wolves can reach speeds of up to 60 kilo­metres (37 miles) an hour when tak­ing down prey. And no do­mest­ic dog, be it 100-pound Rottweiler or ten­a­cious pit bull, has a chance against a wild an­im­al that kills its food to survive.
Another reas­on dogs roam free is con­veni­ence. When we stayed in a beach­side cab­in near Tofino and Bailey needed out in the middle of the night, I simply opened the door and whistled him in a little while later. I would nev­er do that now. My heart goes out to the fam­ily who lost their dog last week­end. I know how dev­ast­ated I would have been if some­thing had happened to Bailey.
The safest place for a dog out­doors in wolf coun­try is on the end of a leash close to the per­son hold­ing it. Although not al­ways the case, there's a good chance that thin piece of leath­er or fab­ric and prox­im­ity to a hu­man will cause a wolf to re­as­sess the situ­ation. And if it doesn't, a per­son armed with bear spray or an­oth­er de­terrent has a chance to pre­vent an attack.
If you love your dog, leash it in wolf coun­try. That skinny strip of leath­er may save the life of a wolf, as well as your can­ine companion.