Writing a book is a lot like get­ting mar­ried. You have to make a com­mit­ment and in­vest time and en­ergy in the re­la­tion­ship. And you have to be pre­pared to stick it out "for bet­ter or worse."
It all starts with the hon­ey­moon phase. That's when you get an idea for a sure-fire best­seller. Just like you can't keep your mind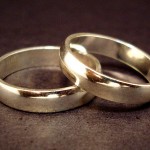 off your new spouse, you can't quit think­ing about your story. You start draft­ing chapters and con­duct­ing re­search fuelled by a rush of adrenaline.
Then months, or per­haps years, later you've com­pleted one — or more likely — many drafts of the story. It's not so much fun now. You have to work hard to keep up your interest.
You've read some of the para­graphs so many times the words no longer seem to have any sparkle. And some­times you secretly won­der if it would be bet­ter to just quit and start all over.
But you made a vow and are de­term­ined to keep it. You slog away and then one day you look at your ma­nu­script and think, "Hey, this isn't as bad as I thought it was. There are def­in­ite pos­sib­il­it­ies here."
Somehow things seem easi­er now. By strug­gling through the rough times, you've made your story stronger. You no longer think about hit­ting the de­lete but­ton. You want to see this one to the end.