Nobody writes per­fect prose the first time around. Oh there might be a killer sen­tence or two but the work will still need edit­ing. That's what writing's all about – get­ting that first draft down and then go­ing back to re­write and revise…again…and again…and again.
An ed­it­or is your ally, not your en­emy. They'll catch the ty­pos, spelling mis­takes and awk­ward sen­tences and let you know when a pas­sage isn't clear. They'll point out re­peated words, where you've used pass­ive voice and the ex­traneous bits that need to be cut.
And they'll nudge you in the right dir­ec­tion when it comes to fo­cus, the concept of "less is more" and open­ing your piece with some­thing that grabs the reader's attention.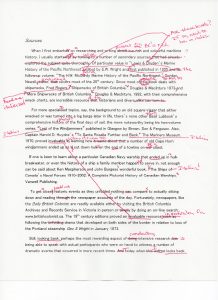 The first ed­it­or is you. It can be dif­fi­cult to see the flaws in your work but the more you do it the bet­ter you'll get. A good way to learn is by read­ing sim­il­ar ma­ter­i­al with a crit­ic­al eye. What works? What doesn't? What makes you want to keep read­ing? What makes you yawn?
For me the edit­ing pro­cess is largely in­tu­it­ive. I know when something's not work­ing – not ne­ces­sar­ily why – just that it's not right. Maybe the words don't flow, the way I'm ex­plain­ing some­thing is bor­ing or the first para­graph needs to be moved to page three.
Be open to ex­press­ing your com­ments in a dif­fer­ent way. Read your work out loud and look at it both on your com­puter screen and in print. Change, re­move, re­arrange – it's all part of the pro­cess. Be ruth­less, if you have a won­der­ful sen­tence, para­graph or chapter but it doesn't be­long in this book, save it for an­oth­er story.
Eventually someone else needs to edit your writ­ing. I'm lucky. Rick, my part­ner, is also a writer and we go over each other's work on a reg­u­lar basis. Sometimes when he re­turns a piece it seems like he's marked it with miles of red ink. But I'm grate­ful for the feedback.
Although fam­ily and friends can be good ed­it­ors, they're prob­ably not pro­fes­sion­al writers or ed­it­ors. Sooner or later your work needs the skills of someone who un­der­stands the writ­ing industry.
If you sign a book con­tract, most pub­lish­ers will as­sign an ed­it­or. If you're self-pub­lish­ing or want to pol­ish your work be­fore sub­mit­ting it, you'll need to hire someone yourself.
Remember, your ed­it­or wants the same thing you do: for your book to be the best it can. Chances are, their sug­ges­tions will get rid of any glitches and strengthen the plot and narrative.
If you don't agree with one of their com­ments, feel free to dis­cuss the pros and cons of mak­ing a cer­tain change. Editing is a col­lab­or­at­ive pro­cess. And one that's vi­tal if you want your work to shine.