Every writer craves a pub­lish­er, an ed­it­or and most of all, time to write. An ocean full of story ideas, hefty roy­alty cheques and some re­cog­ni­tion doesn't hurt either.
But you know what writers need most? Downtime. That's right, big chunks of do noth­ing time when frag­ments of ideas can bounce around the cra­ni­um and pos­sibly morph into some­thing brilliant.
At some point every writer sits in front of their com­puter strain­ing for the right word, phrase or sen­tence. But let's say they for­get all that and take a hike with the dog or stand in the shower for a long time let­ting hot wa­ter sluice over their limbs. That's of­ten when an "aha!" mo­ment and the an­swer to the prob­lem appears.
But how of­ten do any of us give ourselves any real down­time? There's al­ways an email to an­swer, an er­rand to run or a dead­line to meet. And in today's high tech world, even a walk in the woods doesn't guar­an­tee un­in­ter­rup­ted downtime.
Scott Belsky, au­thor of Making Ideas Happen and CEO of Behance, dis­cusses this in "What Happened to Downtime? The Extinction of Deep Thinking & Sacred Space." According to Belsky, every­one, es­pe­cially cre­at­ive folks, should sched­ule reg­u­lar downtime.
One thing Belsky sug­gests is es­tab­lish­ing a ritu­al for un­plug­ging. Yes, I know it sounds blas­phem­ous but this means mak­ing a point of turn­ing off your com­puter, cell phone, Blackberry and maybe your land­line too.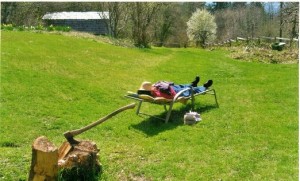 Sundays are my down­time days. I get up when I want, eat when I want, take a nap if I want, read and putter with no par­tic­u­lar goal in mind. And, even though I don't com­pletely un­plug, I try not to have the com­puter on for long.
Once a year or so, Rick and I head to Tofino for a totally un­plugged hol­i­day. The beach cab­in we stay at does­n't have a phone or Internet con­nec­tion and there's no TV, ra­dio or even a clock.
It's hard to de­scribe how lib­er­at­ing that is. And the re­lax­a­tion goes way be­yond an ocean view and strolls on the beach. The sense of let­ting go – the re­lief of not hav­ing to check or re­spond to any­thing or any­body — is enormous.
And, what's really in­ter­est­ing is the cre­at­ive en­ergy I feel after a do noth­ing day or an es­cape to Long Beach. Plot prob­lems seem to dis­solve, a good re­source comes to mind or a pos­sible way to end a chapter presents it­self. Not every time, of course, but enough to know that down­time is an im­port­ant part of be­ing a writer.
Downtime. It's im­port­ant and I need more of it in my life. So, I've just made a big do noth­ing date with my­self for the week­end. Who knows, it might be the best cre­at­ive ses­sion I've had in a long time.