After fifty plus years of at least semi-con­scious in­tro­spec­tion I con­clude I am some­what dis­or­gan­ized. I no longer fight this, but ac­cept it as an es­sen­tial ele­ment of my cre­at­ive be­ing. A cer­tain amount of or­der is ne­ces­sary to ac­tu­ally pull a concept into tan­gible mani­fest­a­tion; how­ever this does not be­gin in a writer's room.
The first writer's room is in my mind, in­de­pend­ence from dis­tract­ing stim­uli the only re­quire­ment. Because I live in wil­der­ness and con­sequently am ex­tremely sound sens­it­ive, earplugs are some­times needed for this writer's room.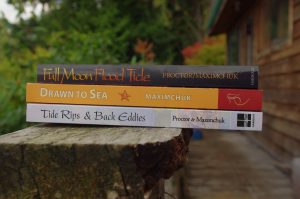 Luckily the cre­at­ive force is power­ful and ab­sorb­ing. Mrs. Ferguson, my grade five teach­er, called it 'day­dream­ing' and en­cour­aged me to write down the beau­ti­ful thoughts and word strings so I could weave them to­geth­er into a lar­ger nar­rat­ive. Hence a pen and note­book are also needed in my writer's room.
Often a writer, in­clud­ing me, takes years to birth a book from a stew of in­com­plete ideas so, at a cer­tain time, a phys­ic­al space be­comes im­port­ant. I must be com­fort­able to write; good back sup­port, pad­ded arm rests, feet at the right height from the floor. In my writer's room a black 'wheel­ie chair' has pride of place. My neigh­bor built a ce­dar pic­nic table for me, which I painted white and is now stained with lay­ers of paint splashes. The half of it ded­ic­ated to writ­ing is stacked with piles of notes rel­ev­ant to sev­er­al projects.
When I raise my eyes from the com­puter, one win­dow re­veals the camel­lia, clematis and Japanese maple tree – col­or for all sea­sons and a rest from the screen. The oth­er win­dow shows ever-chan­ging sky, dis­tant is­lands and closer con­ifers. Both views al­low me con­tem­pla­tion space and eye re­lax­a­tion. Windows are es­sen­tial for my writer's room.
On a shelf be­low the win­dow sits a CD player/​radio. Often my daugh­ter Theda's in­spir­a­tion­al mu­sic plays. Nearby, a book­shelf rich with the beauty and mean­ing of the ages; dic­tion­ary and thesaur­us, books about root words, the writer's art and artist's rights, books of oth­er au­thors' jour­neys of dis­cov­ery and on every as­pect of my fa­vor­ite top­ic, the coastal world I inhabit.
My writer's room is my artist's stu­dio, which em­braced its dual role around 2000. It was a com­fort­able trans­ition as my writ­ing habits are the same as my paint­ing habits… no­tice, con­tem­plate, ima­gine, not­ate, gath­er, as­semble, sit in one place of­ten enough to shape some­thing new and in­ter­est­ing. I love my writer's rooms.
Paula's note: Yvonne Maximchuk is an artist and au­thor of three books in­clud­ing a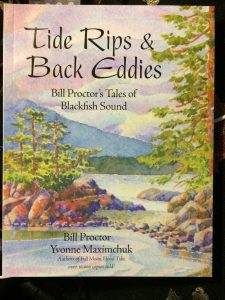 mem­oir of her wil­der­ness life in the Broughton Archipelago, Drawn to Sea – From Paintbrush to Chainsaw, Carving out a Life on BC's Rugged Raincoast. Yvonne and the le­gendary Billy Proctor are tour­ing Vancouver Island with their new pub­lic­a­tion Tide Rips and Back Eddies, Bill Proctor's Tales of Blackfish Sound. Dates and ven­ues can be found at www​.yvon​nemax​imchuk​.com.