Ever since the re­lease of my book, Raincoast Chronicles 21: West Coast Wrecks & Other Maritime Tales, in October, I've been very eager to pick up a copy of the Vancouver Sun every Saturday morn­ing. Why? This is when the B.C. Bestseller list, com­piled by the Association of Book Publishers of B.C., is fea­tured in the paper's Weekend Review.
I must say, it's been heady times see­ing the out­come of my ef­forts up there on that list for over four months now; es­pe­cially after pound­ing away at the key­board in the base­ment in isol­a­tion for so many years. Still, my mak­ing the 'list" didn't hap­pen all on its own.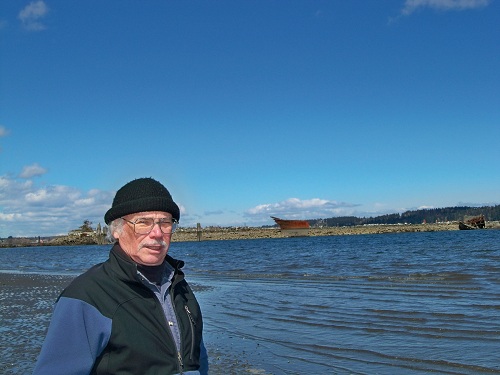 I can't say enough about Harbour Publishing who have done an ab­so­lutely fab­ulous job of pro­mot­ing the book. Howard White's staff went the ex­tra mile en­sur­ing that book re­view ed­it­ors in all the big pa­pers on the coast, as well as vari­ous ra­dio show hosts all had their re­view cop­ies and in­vit­a­tions to in­ter­view me.
But I also went the ex­tra mile on my own since since I wasn't con­tent to just sit back and leave it en­tirely in Harbour's hands. And I real­ized that they, like all pub­lish­ers, only have so much money avail­able to send an au­thor gal­li­vant­ing around the land­scape to book store read­ings or PowerPoint presentations.
So I vo­lun­teered to head over to Tofino and up to the North Island, where I was con­vinced there was an ex­cel­lent mar­ket, on my own dime. I was right, and much to Harbour's cred­it, they con­trib­uted to ex­penses after all.
And what about so­cial me­dia you ask? That must have been a ma­jor factor in the book's suc­cess. Right? Well, as much as some friends and col­leagues are totally con­vinced this is the way to go, I avoided it. No blogs, Facebook, or even a webpage! While it might seem I'm a total throw­back to a dif­fer­ent day and age, I have nev­er been fully con­vinced that this route was ever worth pur­su­ing. (God for­bid, I waste enough time try­ing to keep with emails!)
I must ad­mit though, I did rely on some so­cial in­ter­ac­tion. But it was the old school kind. Since I was up and down Vancouver Island a lot this winter, I made it a point to stop at each and every book­store I was go­ing by. Whether it was Chapters in Nanaimo or Ivy's, the small in­de­pend­ent on Oak Bay Avenue in Victoria, I walked in, in­tro­duced my­self and vo­lun­teered to auto­graph any cop­ies of my book they had on hand.
I did this, not once but twice and even three or four times over the past four months. And has it paid off? You bet! Here it is mid-January and I'm still sit­ting at #6 on the BC Bestseller list!