The Cougar
Beautiful, Wild & Dangerous
by Paula Wild
70 photographs with colour insert
Published by Douglas & McIntyre
Print edition ISBN 978-1-77162-002-4
ebook ISBN 978-1-77162-003-1
"The Cougar is a must read for any­one who spends time in cou­gar hab­itat. Although most people will never see a cou­gar in the wild, the poten­tial for danger is very real. Paula Wild uses com­pel­ling first-hand accounts and inform­a­tion from experts to explain what to do if you encounter a cou­gar, ways to pre­vent an encounter from turn­ing into an attack and how to defend your­self if an attack occurs."
~ Gary Shelton, author Bear Encounter Survival Guide, Bear Attacks The Deadly Truth and Bear Attacks II Myth & Reality.
Both feared and admired, cougars are rarely seen, but odds are that a big cat's watched you walk through the woods while you've been totally unaware of its presence. And that's part of what makes the cougar an icon of all that is beautiful, wild and dangerous.
Cougars have been observed leaping 5.5 metres (eighteen feet) straight up from a standstill, 18.5 metres (60 feet) down from a tree and nearly 14 metres (45 feet) horizontally onto their prey. They're mysterious and curious, elusive and powerful.
And sometimes dangerous. Cougar encounters are becoming more common. Statistics from the past two hundred years show that nearly half the attacks on humans have occurred since 1990.
As the biggest cat in Canada, and the second largest in the Americas, cou­gars range from the Yukon to Patagonia. They're found in the wild back coun­try, along the edge of sub­urban devel­op­ments and, at times, in such unlikely places as the down­town park­ing gar­age of the Empress Hotel in British Columbia's cap­ital city of Victoria.
Once one of the most widely distributed large mammals in the Western Hemisphere, cougar populations were decimated by hunting in many areas.
But their numbers are increasing, especially in western Canada and the United States and some are migrating to the mid-west and beyond.
Wild describes the cougar's biology, behaviour and lifestyle, as well as surprisingly frequent visits to urban settings. The book examines the lives of captive cougars and also presents information on the important role large carnivores play in the delicate balance of our ecosystem.
The Cougar is a skillful blend of natural history, scientific research, First Nations stories and first person accounts. With her in-depth research, Wild explores the relationship between mountain lions and humans, and provides the most up-to-date information on cougar awareness and defense tactics for people living, working or travelling in cougar country.
"Paula Wild has mel­ded a most read­able nat­ural his­tory of the moun­tain lion with an up-to-date dis­cus­sion of lion eco­logy, includ­ing rela­tion­ships with humans. Writing with bene­fit of her under­stand­ing of nat­ural envir­on­ments, Wild paints a fas­cin­at­ing scen­ario of this adapt­able big car­ni­vore and its role in dif­fer­ing eco­sys­tems. Personal accounts of moun­tain lion research­ers make this a first-class read for any­one inter­ested in this big, cha­ris­matic animal."
~ Maurice Hornocker founder Hornocker Wildlife Institute and Selway Institute, editor Cougar: Ecology and Conservation.
The Cougar can be ordered at bookstores throughout Canada and the USA. It can also be ordered from Indigo, Barnes and Noble, Amazon.ca and Amazon.com.
If you'd like an autographed copy, please contact Paula.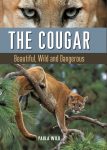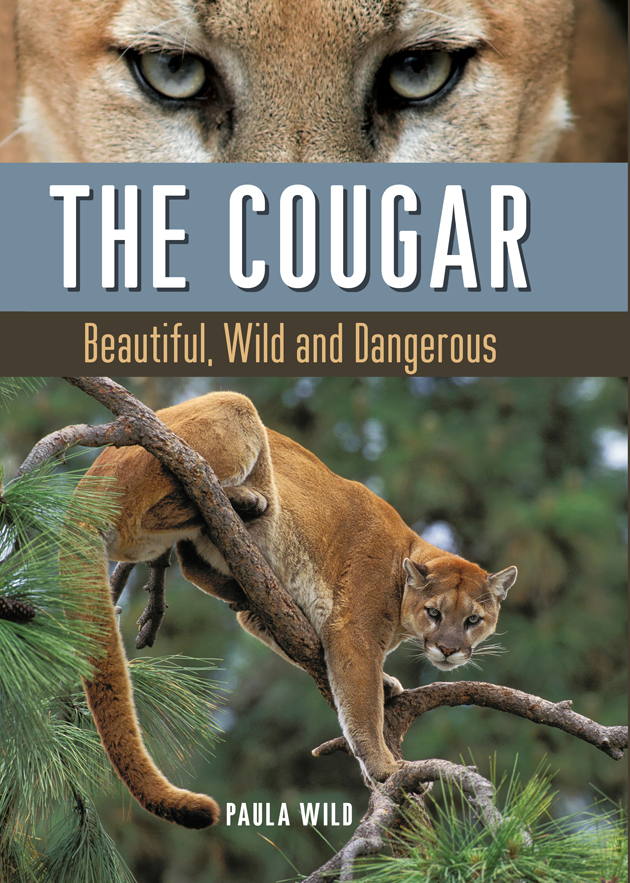 Ebooks can be ordered from Amazon (Kindle), Apple (iBooks), Kobo and Google Play.
To see if Paula is giving a presentation near you visit
Cougar Events.