Cougars, some­times called ghost-cats, are quiet anim­als cap­able of creep­ing up on their prey without a sound. But they do hiss, purr and growl and make a vari­ety of oth­er noises.
When I vis­ited Cougar Mountain Zoo, I thought one of the young cou­gars was sick as it kept emit­ting a soft cough. Turns out that's a not uncom­mon greet­ing between cou­gars and, in this case, between cou­gars and nearby humans.
Cougars also scream when sick, des­per­ate or in heat. The lat­ter is a nerve-wrack­ing shriek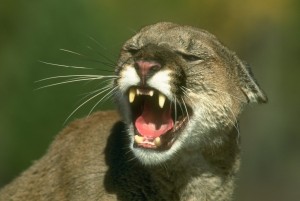 that sounds like a woman being murdered. Once heard it is nev­er for­got­ten.
Female cou­gars and their off­spring make bird-like chirps to loc­ate each oth­er. Once a young cou­gar was shipped to a zoo along with an assort­ment of exot­ic birds. When the anim­als reached their des­tin­a­tion, the hand­lers thought the cou­gar hadn't been loaded, as all they heard were birds chirp­ing. It was only when they removed the cov­ers from the travel crates that they dis­covered the lonely cub.
Check out this link from Big Cat Rescue to listen to some cou­gar and oth­er big cat sounds.
http://​www​.you​tube​.com/​w​a​t​c​h​?​v​=​p​H​Z​m​5​2​n​v​BB4